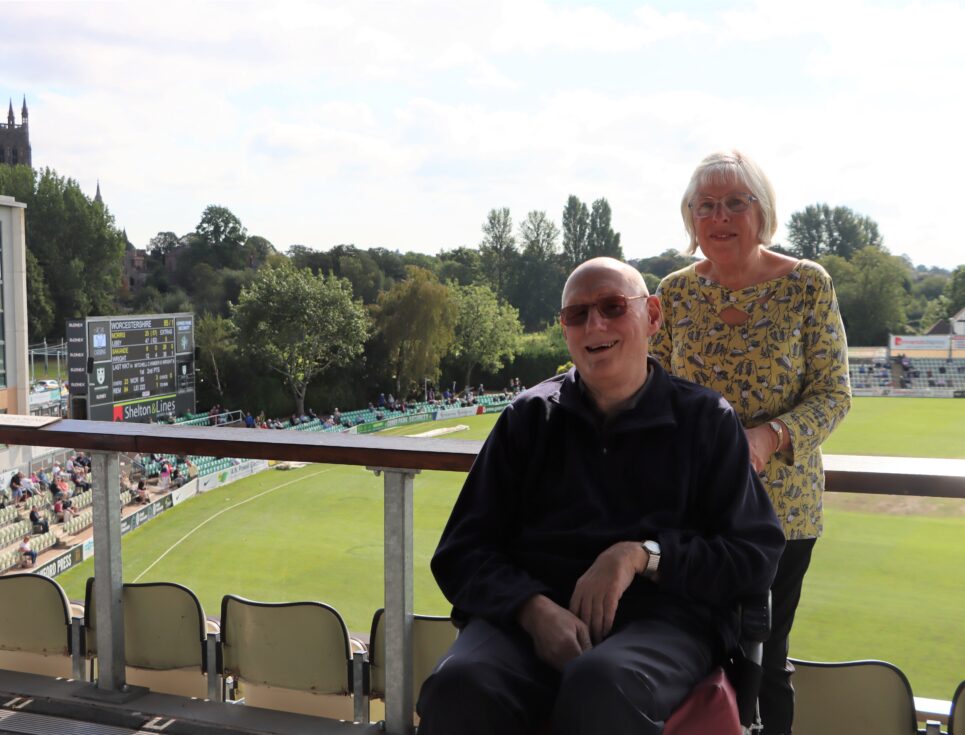 Howzat! Cricket fan Larry Robins and his wife Carole were bowled over by a special invitation to watch the County Championship Worcestershire vs Leicestershire match at New Road this week.
Larry, who has Parkinson's, is supported by St Richard's to live well with his illness and staff knew of his love of cricket. After chatting to Worcestershire County Cricket Club – who chose St Richard's as their Charity of the Year 2021 – the couple were invited to spend a day as special guests.
Carole said, "We had a wonderful time at the cricket. Larry has been a life-long lover of cricket both playing and watching the game.
It was a glorious sunny day when we were met at the ground by Carrie Lloyd and steward Tony and taken to the Members' Executive Suite. Once seated on the terrace we had excellent views of the pitch and the surrounding countryside of the Cathedral and the Malvern Hills. We were offered endless tea and coffee plus sun tan lotion and umbrellas by the ever-attentive Tony. Worcestershire were batting and scoring well. We had an excellent lunch before watching the afternoon session of the game. Thank you to everyone who made this a special day to remember."
Larry has been supported by St Richard's since 2017 through the hospice's Living Well Services, including creative therapy, adapted t'ai chi sessions, physiotherapy and occupational therapy.
A big thank you to Worcestershire County Cricket Club for arranging the treat.