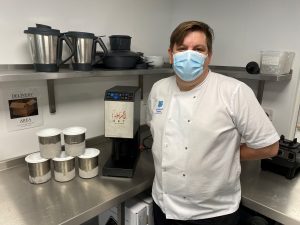 People cared for on the In-patient Unit at St Richard's Hospice can now choose from a menu of delicious ice cream, sorbets, and ice lollies made by our creative Catering Team.
The 14 choices include blackberry sorbet, salted caramel ice cream, frozen yogurt, and even a Horlicks malted ice cream.
They are made with 100 per cent natural ingredients, and can help boost patients' nutritional and calorific intake – as well as offering a cool treat, whatever the weather!
These will add significant benefits to our patients' quality of life on the In-patient Unit. So often our patients crave the pleasure of something refreshing to taste while having very limited appetite. This varied menu of flavours will help us find something for everyone to enjoy."

Dr Nicky Wilderspin, Medical Director at St Richard's Hospice.