Carers Week
Monday, 7th to Sunday, 13th June 2021
It's Carers' Week and St Richard's is celebrating carers as we continue to support them and recognise the important role they play in caring for their loved ones.
Carers are usually found beavering away in the background as their main goal is providing the very best care possible for their loved ones, 24/7, 7 days a week, year-round.
Lives can change quickly when a diagnosis is given to a loved one, changing family dynamics in an instance – a wife, husband, children, grandchildren can all find themselves in a caring role, a role they never thought they would be in but one they gladly take on to provide the very best support.
Carers contribute so much and make such a difference to the quality of life for their loved ones, but they are underappreciated for their role, which often involves putting their own needs and health issues to one side, sometimes for many years.
During the Covid pandemic, carers have been hit hard as their lifelines giving them some respite may have been suspended, as well as not having support from family members, friends and neighbours.
Over a number of years, I have had the great privilege to be involved with our Carers Group. I am now the Carers' Champion for the Family Support Team and lead of this group, along with Nikki Butterworth, one of our Family Support Practitioners, she brings her expertise from working in the Hospice at Home Team.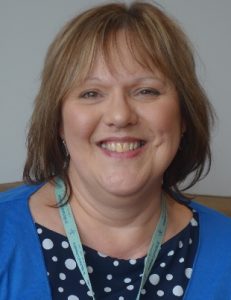 Together we have supported our carers during the pandemic with fortnightly carers' zoom drop-ins and regular emotional support telephone calls. This has given carers a time to have some peer support in a group setting, or to just have 'time-out' during a call to reflect on how they are feeling, something they very often have little time or energy to do themselves.
During our support calls we can often identify ways of providing extra support for the carers, whether that is through support from our Family Support Volunteers, our Practitioners, Counsellors, CAB or Social workers. We can also highlight any extra carers' needs to the Hospice at Home Team, the Community Nursing Team, Living Well Services and through the Out-patient clinics.
Wendy Duke, Family Support Worker
Judith and Michael's story
"They can't make Michael better – we know that," says Judith. "But they are there, they are our rock. They are like the light at the end of a dark tunnel."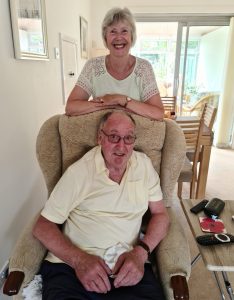 Judith is a carer for her husband, Michael, who lives with Parkinson's. This Carers Week, Judith shares how support she receives from St Richard's has made a difference to her life.
The couple began accessing hospice support during the pandemic. Our teams support them at home, as well as virtually – over video call and telephone.
Judith attends our virtual carers support group, where she can speak to others in a similar situation and share experiences.
"Just talking to other ladies that have husbands with the same problems as Michael, I can't tell you – I've learned so much," says Judith.  "It's so nice to talk to people who understand."
Our teams support Michael at home, allowing Judith time to run personal errands and go shopping. And, we are at the end of the phone to support Judith with any concerns, of questions she may have.
During virtual sessions, our complementary therapist has even taught Judith how to give relaxing head and back massages to Michael, to help with his pain.
And, Michael attends our virtual Men's Space patient support group where he meets others, talks, and shares experiences.
Judith says: "Carers support from St Richard's has made life totally different. I know that I'm not the only one. I know that I can pick up the phone and there is somebody at the other end who will talk through my concerns with me. Nothing is too much bother for them."
Gill's story
Gill is wife and carer to her husband Dave, who is living with Parkinson's. The couple are in their 70s and live in Droitwich.
Before the coronavirus pandemic Gill would join the regular St Richard's Carers' Group in person, with the hospice arranging a healthcare assistant to sit with Dave to ensure he was safe while Gill was out. As Gill doesn't drive, St Richard's arranged for a volunteer driver to take her to the group.
"The Carers' Group is brilliant, I would be lost without them and the support has made a massive difference," said Gill.
"You think you're on your own, and don't realise until you are part of a group and speak to others that it's not just you, there are others going through similar difficult situations.
"It doesn't matter what illness your partner has, you are still there for them 24/7. Going to the group, talking to others, having coffee and a relaxation session, it's just lovely."
During the pandemic , when meeting in person has not been possible due to restrictions, the Carers' Group moved online.
Gill was delighted that a St Richard's Hospice at Home healthcare assistant comes once a fortnight, sets her up to join the Carers' Group online via Zoom and then stays with Dave so she can focus on the meeting.
"Everyone is just wonderful and the hospice has always said if ever you need us, just call and there will always be someone to talk to you."