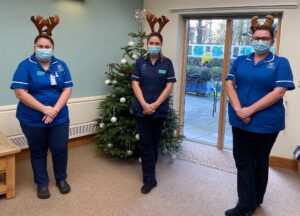 It's beginning to look at lot like Christmas at St Richard's Hospice!
The decorations are going up and our thoughts are turning towards festive activities in the run-up to the 25 December.
Twinkling lights now adorn our hospice gardens, creating a festive display for patients to look out on from the warmth of their rooms.
Christmas trees, generously donated by Webbs Garden Centres, are being decorated in our In-patient Unit, Living Well Centre, and Reception.
Festivities will be a little bit different once again this year, due to restrictions in place to keep everyone safe during the pandemic.
However, our caring teams will do their utmost to make the festive season a time of comfort and joy – whether a patient's wish is to be at home, or at the hospice.
On Christmas afternoon, our In-patient Unit Team will be ready to welcome families through the doors and there will be plenty of music and laughter.
And, there will be a delicious Christmas lunch made by our Catering Team.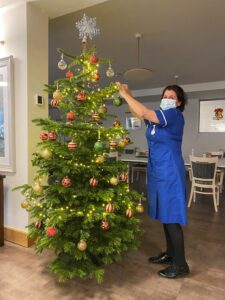 Throughout the year our specialist teams are on hand to support patients and families at home across Worcestershire. This continues across the festive season too.
Nurses will be on the end of a phone or a video call 24/7 and our Community Team will visit at home to provide support.
We'll be running virtual Living Well services right up to Christmas including some social get-togethers. This is ever important at a time when many can feel lonely and isolated.
And, our Family Support Team is also there for those who may find the festive period particularly difficult.
Our heartfelt thanks go to our staff for their continued dedication to providing compassionate care through another challenging year.
And, we are especially grateful to those who will swap Christmas with their families to care for our patients and their loved ones.
None of this would be possible without the unwavering help of our community supporting us year in, year out. We are so grateful to you all for keeping us caring.
From everyone at St Richard's, we wish you a safe and joyful festive season.
June Patel, Chief Executive of St Richard's Hospice