Our marquee will stock a host of re-loved and handmade goods – including upcycled gardening tools and fabric gardening accessories.
This is where we need your help!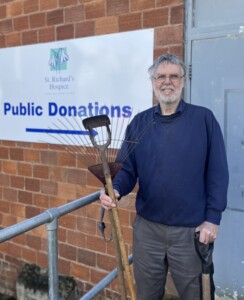 Dig out your gardening tools
We would love to receive your old, unused gardening equipment – such as spades, watering cans and trowels – to restore and upcycle.
Your items will be given a new lease of life and used to raise funds for our care to patients and their loved ones.
Bring your donations to one of our shops, or warehouse, during opening hours, by Friday, 14 April. Or, you can drop items to our donation container at the hospice in Wildwood Drive, Worcester, between 9am and 4pm Monday to Friday. Don't forget to add your Gift Aid number too! Sign up for Gift Aid online
Calling all stitchers
If you are a crafter who could make and donate fabric gardening accessories – such as aprons, kneeling pads and plant pot covers – to raise funds for St Richard's, we would love to hear from you.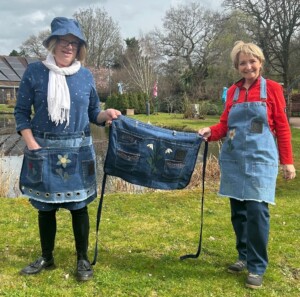 Friends Gill and Hermine (pictured right) are already busy with their needles, making marvellous aprons, bags, hats, shoulder bags and half aprons out of repurposed denim for the Festival.
Please register your interest in supporting this project. We may be able to provide fabric for you to use, with more details provided to anyone who registers their interest here bit.ly/40IYPIe
You can drop your creations to our shops or warehouse during opening hours. Or, bring them to the hospice in Wildwood Drive, Worcester, between 9am and 4pm, Monday to Friday, by Thursday, 27 April.
Thank you for your support, helping us continue to be there for our patients and their loved ones. And, thank you the RHS Malvern Spring Festival for such a wonderful opportunity.