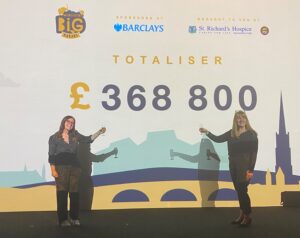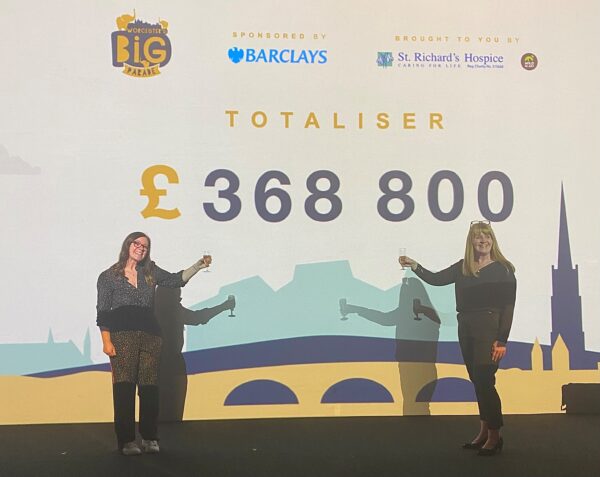 Celebrations were in full swing last night after an auction of 31 elephant sculptures raised £368,800 for St Richard's Hospice.
Worcester's Big Parade, a Wild in Art event brought to the city by St Richard's, captured the hearts of the community and attracted thousands of visitors this summer.
With 250 guests, the auction sponsored by Barclays and hosted by DRPG in their Hartlebury studio complex, was a mammoth success – with people bidding in the room and online to give their favourite members of the herd a forever home. Compered by Richard 'Hursty' Hurst, events were overseen by auctioneer Philip Serrell.
Tricia Cavell, Fundraising Director at St Richard's Hospice, said: "It was an incredible night at auction and we're thrilled our herd raised £368,800 for our care.
"Each year, we need to find close to £10 million to keep the hospice doors open – 80 per cent of which comes from the generosity of our supporters. So, we send a heartfelt thank you to our amazing community for supporting us not just on nights like the auction but each and every day – we simply couldn't do it without you!"
Over the summer, 66 elephants paraded through the city's streets and open spaces for eight weeks attracting thousands of visitors from all over the country.
Of the 66 sculptures, 30 were large elephants and 36 were calves – 35 of which were decorated by schools and community groups.
All the large elephants and one baby, Spark-Ele, went to auction while the remaining 35 ele-babies will return to those who decorated them as a legacy of the project.
Each elephant sold for between £4,400 and £36,000 with three elephants achieving £30,000 or more under the hammer.
Bidders came from far and wide with a range of reasons for taking part. For the Dew family – who went home with a fantastic five members of the herd – supporting the auction was a way of saying thank you for the care St Richard's Hospice provided to family members.
Carrie-Ann Dew said: "St Richard's means a lot to us all – Jonathon and myself – his mum and dad were both looked after by St Richard's, my grandad was looked after by the hospice and the care and the support we still receive is amazing. Even years after, they are still in contact.
"St Richard's is very close to our hearts and buying the elephants at the auction is really our way of saying thank you for all they have done and continue to do.
"They will go in the house with the two giraffes we bought at Worcester Stands Tall!" she added.
Auction hosts, DRPG, who were a key partner in Worcester's Big Parade over the summer and helped create a 'What's the elephant in the room?' digital art installation, also bid successfully for the elephant they sponsored by local artist Betti Moretti.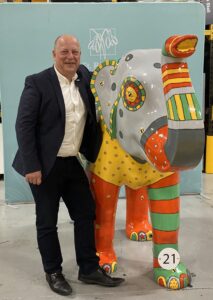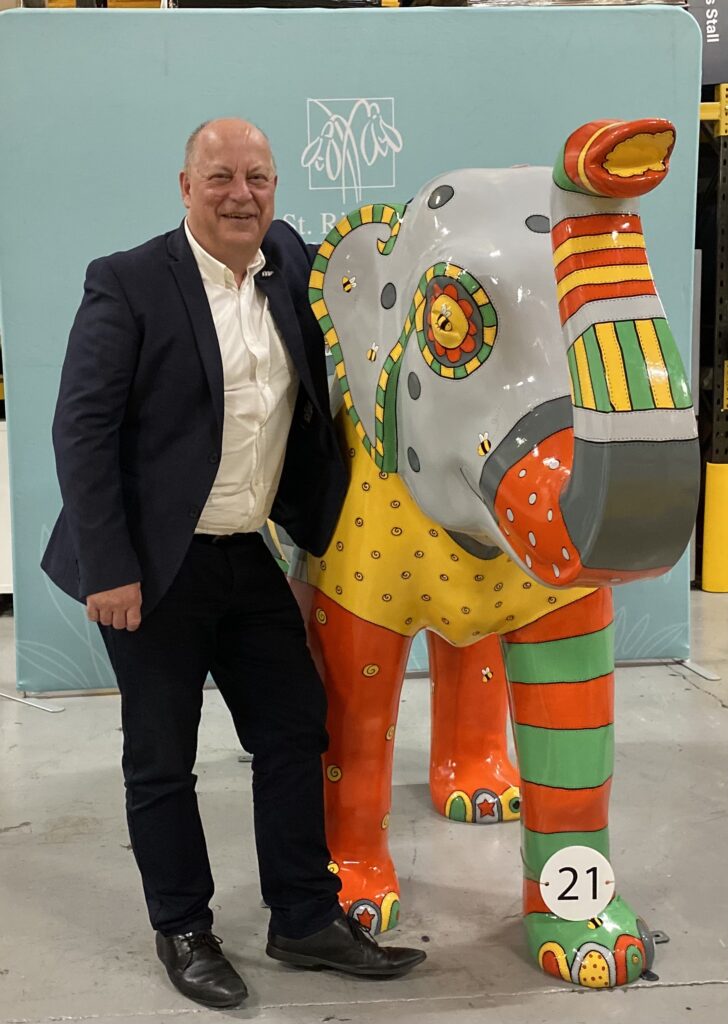 Dale Parmenter, CEO of DRPG, said: "We've loved being a partner in Worcester's Big Parade this summer and to produce the 'Elephant in the Room' digital instillation. The whole team have been so excited to be able to support St Richard's Hospice and really push the boundaries of creativity. We were also honoured to host the auction and put on such a memorable show.
"Having sponsored 'Dare To Bee Different' we couldn't let this fantastic work of art slip through our fingers and are delighted to be the proud owners of an elephant to accompany our 'Worcester Stands Tall' giraffe from three years ago!"
A community campaign to bring one of the elephants back to the hospice gardens was bolstered by generous auction attendees on the evening. When an online bid for 'An Elephant Never Forgets' came in at £10,000, several members of the audience clubbed together to increase the hospice fundraising pot from £5,000 to £11,000 securing the sculpture for the Worcester-based hospice.
Tricia Cavell, Fundraising Director for St Richard's Hospice, said: "When bids went beyond the £5,000 the community had so generously donated for a hospice elephant we thought we wouldn't be bringing one home. Then, to our surprise, an audience member stepped forward to add another £2,000 and asked who would join him. Following a show of hands, the winning bid was made leaving the hospice team both grateful and emotional.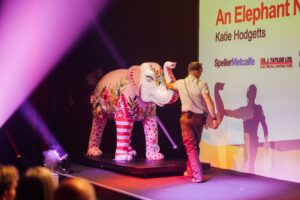 "We can't wait to bring our beautiful elephant, painted by local artist Katie Hodgetts, and whose grandfather we cared for, to St Richard's for patients, families and our team to love."
Worcester's Big Parade is a Wild in Art project, brought to the city by St Richard's Hospice. It is supported by partners Crowngate, Worcester City Council, Worcester Business Improvement District (BID), DRPG, West Midland Safari Park, the Worcester News and BBC Hereford & Worcester.
To find out more, visit www.worcestersbigparade.co.uk