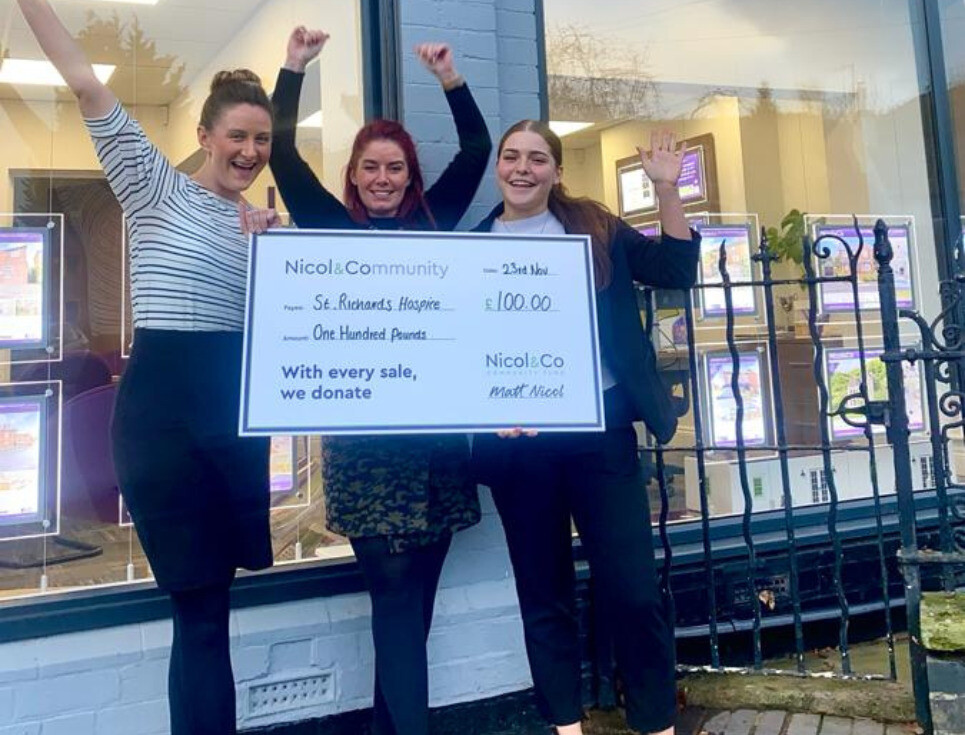 A county estate agent has raised more than £10,000 to support the care provided to hospice patients and their loved ones across Worcestershire.
The Nicol & Co Community fund donates £100 to a community cause with every property it sells, allowing sellers to choose a school, local project or charity close to their hearts.
More than one hundred sellers have chosen St Richard's Hospice since March 2021 bringing the funds raised for the Worcester-based charity to an incredible £10,600.
Hospice Fundraiser, Ria Simons, said: "We're blown away by the generosity of everyone at Nicol & Co and 106 amazing sellers who've all selected St Richard's as their charity of choice.
"It's a huge sum raised which will make a huge difference to patients and their loved ones here in Worcestershire. For example, it could fund a Hospice at Home healthcare assistant for more than five months, caring for patients who wish to stay in their own surroundings."
Matt Nicol, managing director, said: "We're delighted so many of our clients have chosen St Richard's to benefit from our community fund. I've been fortunate to tour the hospice and hear first-hand about the support given to more than 3,100 patients, family members and bereaved people every year. That support is provided free of charge and largely only possible thanks to donated funds."
He added: "If anybody reading this is contemplating a sale and needs some advice we would be delighted to help and can be contacted via or via our website www.nicolandco.co.uk"