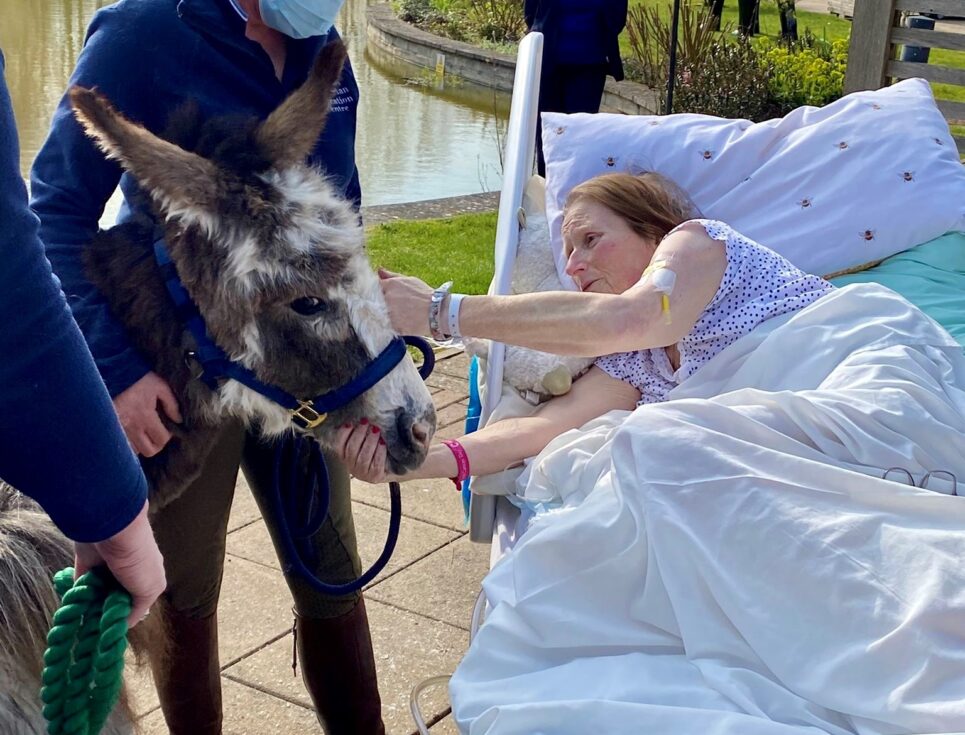 Spring is finally here and our gardens are full of blossom and bees.
Patients staying with us on our In-patient Unit can sit in on the individual patio areas outside their rooms. And, there are shades to keep everyone cool when the sun is shining.
We strive to make time spent with us as personal and comfortable as possible for patients and their loved ones.
Part of this is going the extra mile to make those special moments happen, where possible.
Last Friday (25 March 2022), we did just that – with help from the Worcester Riding School and Pony Club Centre.
Miniature donkey, Mr HeeHaw Henley, and miniature pony, Miss Penelope, were welcomed to our gardens.
We were honoured to make our patient Angela's wish to pet a donkey again a reality. And, staff loved meeting the adorable duo too!
Elsewhere in the hospice, our Living Well Team has re-started face-to-face care for patients attending its Therapeutic Programme.
It has been wonderful to safely welcome out-patients for in-person care again, after a period of virtual support only due to the wave of Omicron.
The therapeutic programme – which is still delivered via phone and video call for those who wish to access care remotely – helps patients manage their illness with support.
Patients can speak with palliative doctors and nurses, physiotherapists, occupational therapists, complementary therapists, creative therapy, and the chaplaincy team.
Our Family Support Team is also re-starting in-person support for their clients too.
The team work with adults and children both before and after bereavement – including via various group support sessions, which can now begin to safely restart.
Staff in our Community Team continue to offer specialist support round-the-clock across south Worcestershire. This team helps patients to remain in their own homes, and support their carers.
Of course – none of this would be possible without the tireless support of our community.
Whether it's donating, taking on a fundraising challenge, volunteering with us, or simply sharing a kind word – we are so grateful to everyone who helps us continue to care.
Thank you.
June Patel, Chief Executive