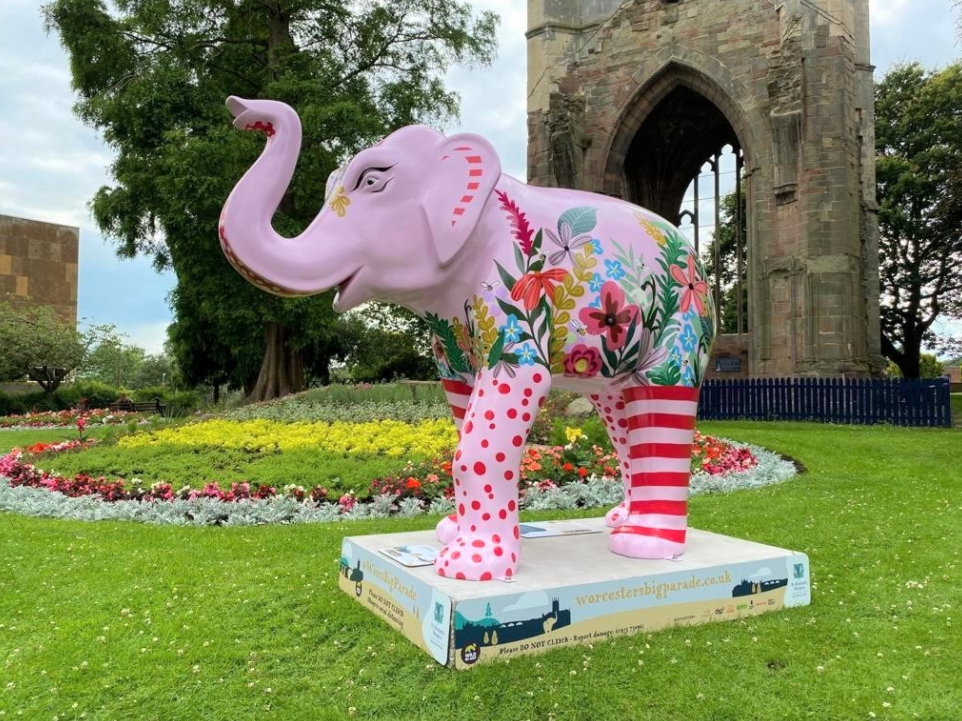 A teacher from Fernhill Heath, who rallied county makers to support this summer's elephant trail, is spearheading a new campaign to bring one of the stunning sculptures to St Richard's Hospice for patients, families and staff to enjoy.
Gemma Ward is calling on the community to raise funds so that 'An Elephant Never Forgets' can make the hospice garden its forever home.
All 30 large elephants and one baby, Spark-Ele, will go under the hammer on 14 October to raise funds for St Richard's Hospice, which cares for patients with serious progressive illnesses and their loved ones too.
A Wild in Art event, brought to the city by the hospice, each large elephant has to go to auction under the terms of the project license. With the reserve for each expected to start at £3,000, Gemma is hoping to raise £5,000 to be able to bid for the elephant on the hospice's behalf.
Speaking about her fundraising campaign, Gemma Ward said: "It's been wonderful for us all to enjoy the elephants brought to the city by St Richard's this summer and create many happy memories with our loved ones. So, it feels fitting that they should have their own elephant in the hospice gardens as a lasting memory of the project.
"The beautiful sculpture would also serve as a tribute to the amazing hospice team who've continued their care and compassion despite what the pandemic threw them and in a challenging time for fundraising with events cancelled and charity shops closed for long periods.
"I picked 'An Elephant Never Forgets', as it's one the hospice had already taken under its wing without an official sponsor. It also has forget-me-nots and snowdrops among the flowers on the design, which symbolise the promise to live on in the memories of loved ones and the legacy left behind. It feels a bit like bringing the elephant home to where it belongs!"
Tricia Cavell, Fundraising Director at St Richard's, said: "Each and every elephant on the trail was special but the team all have a particular soft spot for 'An Elephant Never Forgets' because remembrance is such a big part of our work here.
"She was painted by Katie Hodgetts, an artist whose granddad was cared for by St Richard's Hospice before he died in 2016.
"We're so grateful to Gemma for launching the fundraiser, a hospice super supporter who not only helped coordinate thousands of donations to our Worcester's Big Parade shop but volunteered in the shop too! The Parade just wouldn't have been possible without such amazing community support and we can't thank everyone enough."
To make a donation to bring 'An Elephant Never Forgets' to the hospice, visit Gemma's fundraising page at: https://justgiving.com/fundraising/worcestersbigparade
Anyone is able to bid on a sculpture to take home or display at their business or organisation. The bidding for each sculpture is set to start at £3,000.
To find out more about the auction, taking place at DRPG in Hartlebury, or to register your interest in bidding, please visit: https://worcestersbigparade.co.uk/auction/
The auction will also be livestreamed for those who would like to join from home. Telephone, online and commission bidding available on the night too. For more details and FAQ, please visit the website.
The auction is supported by Barclays.
Worcester's Big Parade is a Wild in Art project, brought to the city by St Richard's Hospice. It is supported by partners Crowngate, Worcester City Council, Worcester Business Improvement District (BID), DRPG, West Midland Safari Park, the Worcester News and BBC Hereford & Worcester. To find out more, visit www.worcestersbigparade.co.uk. You can also follow Worcester's Big Parade at www.facebook.com/WorcestersBigParade, www.twitter.com/WorcsBigParade and www.Instagram.com/WorcsBigParade