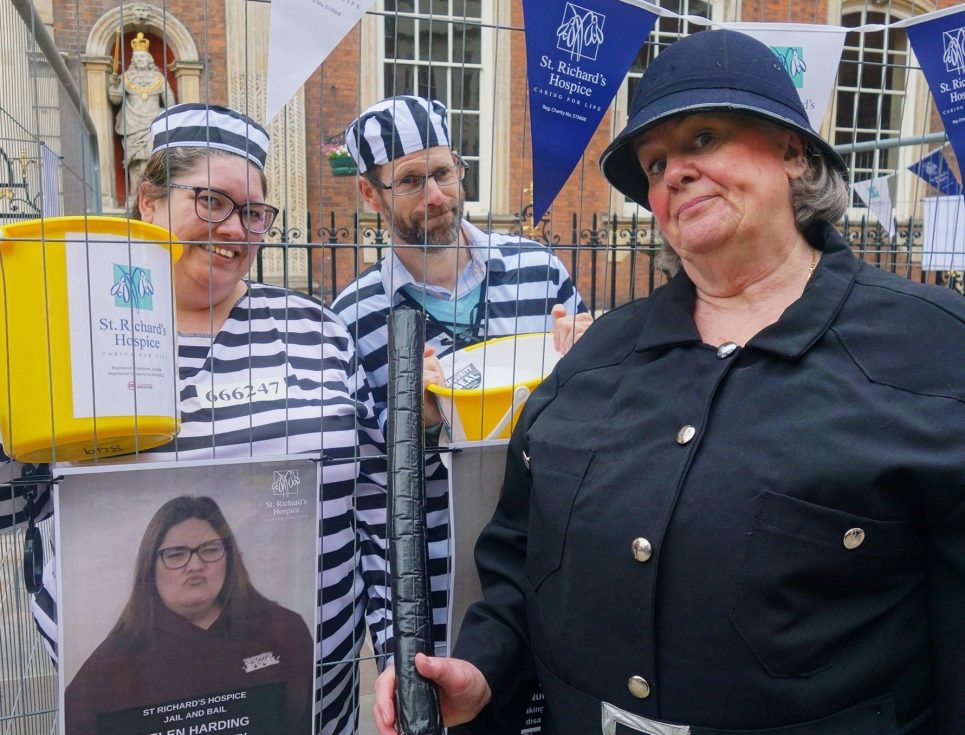 Employees, pupils and budding sports stars are being invited to 'lock up their boss, teacher or coach' for a light-hearted fundraising challenge in support of St Richard's Hospice.
Detainees from across the county will be 'taken into custody', 'stand trial' for their fictitious crime before being handcuffed in a cell outside The Guildhall, Worcester on Friday, 24th September. They will be challenged with raising £500 or more in bail money for their freedom by 3pm.
Ria Simons, hospice fundraiser, said: "Everyone involved takes the day with great good humour and it's brilliant to see how much is raised for our care. Last year we went virtual with the challenge so we're looking forward to being back at The Guildhall and the local community getting into the fun of the event."
Last year's Jail and Bail participants raised more than £7,600 for St Richard's.
All the money raised on the day will help St Richard's Hospice continue its free care to patients living with serious, progressive illnesses, their loved ones and bereaved people across Worcestershire.
To get involved with Jail and Bail, visit https://www.strichards.org.uk/jail-and-bail-2021/ or email Ria Simons on
St Richard's Hospice cares for adults with a serious progressive illness, improving their quality of life from diagnosis, during treatment and to their last days. It also supports their loved ones.
Each year the hospice team supports more than 2,900 patients, family members and bereaved people in Worcestershire.
St Richard's is an independent charity and relies on donations and gifts in Wills for the majority of its income with the remainder funded by the NHS. 
Photo taken in 2019.