Job Reference: 2123
Hours: 22.5 per week
Salary Scale: FTE: £25,417 – £28,021 per annum
(22.5 hours per week: £15,250.20 – £16,812.60 per annum)
St. Richard's Hospice provides free specialist palliative and end of life care for adults in South Worcestershire with a life limiting condition through our community teams, our newly developed state-of-the-art Living Well Centre and our In-patient Unit. We offer care and encouragement to patients, enabling them to take control of their lives as their condition changes and offer support to their families and carers.
This is an exciting time to join the Hospice as we have just completed an expansion and have undergone a £5.2m building project in order to be able to improve the facilities on our site in Wildwood Drive to provide support to more patients and families in Worcestershire. 'Living Well' courses and drop in sessions run alongside the therapeutic programme within the Living Well Centre and out-patient clinics. A stepped model of care is provided.
We are currently seeking a caring, compassionate and committed professional to join us as a Nurse to provide high standards of nursing care across all aspects of our Living Well Services. This will include participating in the delivery of 'Living Well' courses and drop in groups, as well as practical hands-on care and straightforward assessment. Services will be provided virtually or face-to-face either in the Living Well Centre or within patient's homes, on occasions, depending on the patients' needs.
This is an exciting opportunity where your existing skills, knowledge and experience can be developed further through our on-going investment in your professional development. Hours of work will be 22.5 hours per week worked over 3 days, Monday – Friday.
Being a Registered General Nurse (Level 1) with current NMC registration and experience of multi-disciplinary team working are essential requirements for this role whilst a teacher/ mentoring qualification and experience in Palliative Care/ Oncology and running patient groups is desirable.
The successful candidate will need to demonstrate their ability to work as a member of a team and have a flexible approach to the variety of jobs they will need to undertake.
The posts require an Enhanced Disclosure and Barring Service check.
Working with the Living Well Services Team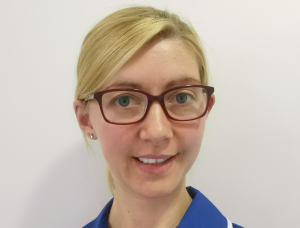 "I am Lydia and I am a Living Well Services Nurse.
"I joined the team seven weeks ago and have fitted straight in. I enjoyed a thorough induction programme where I was able to get a good overview of the hospice and learn how the different teams link to provide holistic care.
"My team, and everyone at St Richards, have been so warm and welcoming. Everyone is so helpful and nothing is too much trouble.
"We run a virtual support programme for the patients in our care, due to the pandemic. The team worked so hard to change the way they delivered their services. They recently won an award in recognition of this!
"We provide telephone or video calls to check in with the patients on our caseload. We review and offer further assistance and make referrals to other members of the team.
"This supports patients to achieve their goals, which are set at the start of their programme and are centred around what matters most to them.
"My job is rewarding, enjoyable and I love that each day is so varied! I am proud to be a member of such a wonderful team.
"The management team are supportive and encouraging and I have already been able to attend courses as part of my continued professional development.
"Going forward, I am excited to be able to welcome patients back in to the hospice and trial a new hybrid model of care, which will benefit more people in the future."
More information and apply
If you would like to find out more information, please contact Claire Gijselhart, Head of Living Well Services, or Kirstie Smith, Staff and Volunteer Recruitment Co-ordinator, St. Richard's Hospice, Wildwood Drive, Worcester WR5 2QT Tel. 01905 763963 or email . You can apply online below or alternatively, download an application form and return it to HR Department.

Closing date: 22 June 2021 at 12 noon
Interview date (provisional): 1 July 2021
Charity No. 515668