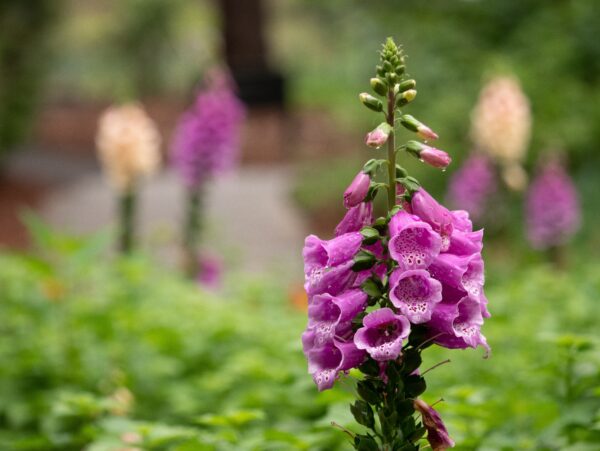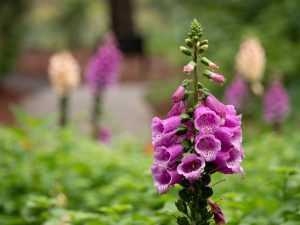 To help keep you inspired and engaged, our Living Well Team created a variety of themed activities and helpful resources.
The theme for this set of resources is gardens!
You can use the links below to quickly jump to different sections of this resource page.
We hope you enjoy exploring our garden-themed resources and activities! Let us know how you get on!
Arts and crafts
How the sunflower appears in great works of art
For centuries, artists have been inspired by the sunflower's iconic form. Find out which famous artists created sunflower themed work, and a little of the history behind the pieces.Read the article.
Or, learn how Vincent Van Gogh used sunflowers in his work. Read the article.
View a PowerPoint presentation on the subject of how the sunflower is depicted by famous artists.
Let's get creative!
There are plenty of garden-themed arts and crafts activities out there for you to get involved with. Take a look at the following links to get you inspired!
Tutorial for doodling flowers: youtu.be/FaUFYpwoPe0
Making flowers: youtu.be/d9mTJ7jCJk4
You could have a go at making some paper flowers too, such as the ones pictured here:
Have a go at making 'suntangles'
If you enjoyed the Zentangle water activity on the Mayflower resources page, why not have a go at a sunflower image. You can use the images pictured here or why not try drawing your own?
'Lighting up' our streets with sunflowers
Mary, Creative Therapist with the hospice's Living Well Team, has been involved with a sunflower project in Worcester. Read about the project, and take a look at some of the images involved.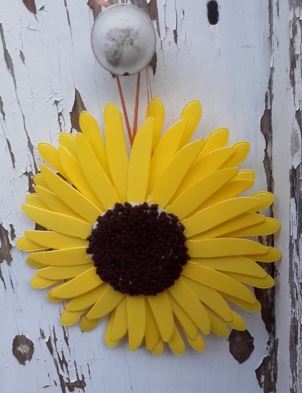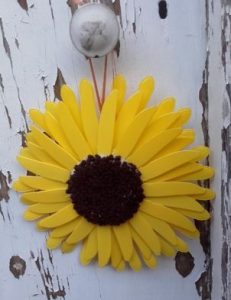 Sunflower Gallery

Land art
Land art, or earth art, is art created using the landscape or the natural materials within it. This art movement emerged in the 1960s and 70s and sought to take art out of museums and set it within a natural context.
Some works of land art are left to the elements and undergo constant change. Many land artists also documented their pieces using photography or film. See land art pieces by American artists, and husband and wife duo, Robert Smithson and Nancy Holt on this PowerPoint.
Land artists may also choose to bring the elements into gallery spaces to help us connect with nature. Their work often includes circles and spirals that echo natural features of the landscape. Two of our prominent British land artists are Andy Goldsworthy and Richard Long. You can gather inspiration from their work on this PowerPoint and maybe try some small pieces of your own with natural materials to add to our nature mandala gallery.
Take a look at some land art created by our Living Well Team. We'd love to see your nature art, so email pictures in to the team for inclusion in our gallery.
Exercise
Love Activity, Hate Exercise?
In 2019 the Chartered Society of Physiotherapy launched a campaign aiming to encourage everyone to become more active.
Being active doesn't necessarily mean going to the gym and exercising, you could do something you love, such as being out in the garden.
If it has been a while, be kind to yourself and don't expect too much too soon.
See the link below for further information from the Chartered Society of Physiotherapy on getting active with a long-term condition.
www.csp.org.uk/public-patient/keeping-active-healthy/love-activity-hate-exercise-campaign/being-active-long-term
Books, films, music and poetry
Love Books
Love Books is a book group that meets online fortnightly. Recently, the group looked at books on a garden theme as a review for this resource page. Take a look at which books the group discussed, and pick up a few recommendations to leaf through!
Books, films, and songs on the theme 'gardens'
Take a look at our list of titles, based on this fortnight's theme.
And read a few reviews, and recommendations in this article.
ESO – Virtual Concerts
Musicians of the English Symphony Orchestra have been hard at work creating videos for you to watch from the comfort of your own home.
'Downside Up' is a lockdown concert and features cellist Corinne Frost, and Stephen Warner on the double bass, ukulele and guitar. It is filmed in a beautiful garden setting, tying in nicely with this fortnight's theme.
You can watch and enjoy the videos by clicking on the links below.
Wind Quartet: www.youtube.com/playlist?list=PLG-XiZWNFryZ8BBJfLwc4MbPHPcdu0e6k
Downside Up: https://youtu.be/EQUHTglIZEg
Have a go at our flower-power quizzes
Click this link to see if you can guess the flowers from the picture clues in this fun-filled quiz.
Or, test your sunflower knowledge with this quiz, which includes a picture round too. Click this link for the quiz, and follow this link for the answers!
Recipes
Using elderflower in cooking
Follow this link for two recipes using elderflower. Why not have a go at making elderflower cordial, or elderflower vinegar? Happy cooking!
Chocolate pots
Indulge yourself with this recipe for sumptuous chocolate pots with Baileys cream.
Health benefits of plants
Garden plants and aromatherapy
Most of us will be familiar with the herbs and spices we grow in the garden, plant in wooden baskets or those sitting in delightful little pots on the kitchen window ledge.
Whilst they are widely used in culinary dishes and beverages, all of them serve another purpose in the fascinating world of aromatherapy as essential oils. We hope to be able to give you an insight into their therapeutic uses. Follow this link to read the article.
Health benefits in store cupboard spices
From black pepper, to turmeric, read a piece on how spices in your store cupboard could hold health-benefiting properties.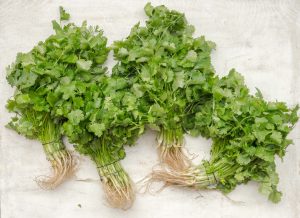 Benefits of eating coriander
You might like to follow this link to find out more about this lovely, subtle herb.
www.healingplantfoods.com/coriander-leaves-benefits-and-side-effects
Reflections, thoughts, and pictures
A Garden Haven
Kathy, who is a Senior Health Care Assistant in our Living Well Team, reflects on how her garden (pictured below) has been a haven during lockdown:
"I have spent almost 12 weeks shielding now; gradually recovering and healing.
"One key part of that has been our garden. It's a bit of a wild garden! And obtaining plants in lockdown has been a challenge; but doing light work in the garden and watching it emerge through spring into early summer has been a real blessing.
"Without our garden; I know my recovery would have been so much more stressful and difficult.
"As lockdown eased we had a couple of friends to visit; social distancing in our garden; again another blessing. So very grateful for our wild haven; this year more than ever."
History
Read a piece by Liesl Hopkins, Complementary Therapist, on famous landscape architect Capability Brown and his work at Worcestershire's Croome.
Reflections on a Midsummer garden
Read this evocative piece celebrating the beauty of plants and gardens, a reflect on how nature continues its annual rhythms despite the world events affecting our daily-lives.
Useful links and further reading
Take a look at a PowerPoint presentation by hospice volunteer Sharon on indoor bulb planting.
Read another interesting presentation by Sharon with tips on growing herbs indoors, planting tulips outdoors, and more!
Find out about the prolific garden designer, Gertrude Jekyll: gertrudejekyll.co.uk
Be inspired, or gain some gardening tips and tricks, from the Sarah Raven website: www.sarahraven.com
Learn about, and explore, the Painswick Rococo Garden – the UK's only surviving, complete Rococo Garden: www.rococogarden.org.uk
Read all about the beautiful Croome parkland, right on our doorstep in Worcestershire: www.nationaltrust.org.uk/croome
Virtual Tours
Take virtual tours through some of the UK's beautiful gardens, by visiting these websites: