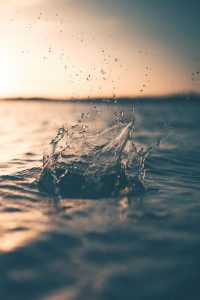 To help keep you inspired and engaged, our Living Well Team created a variety of themed activities and helpful resources.
The theme for this set of resources is water. You will learn facts about water; find out how artists have been inspired by the element; get some great recommendations for books on a watery theme; read tales of fishing, an account of living aboard a canal boat and more.
You can use the links below to quickly jump to different sections of this resource page. Use them to navigate to the content you'd most like to access.
Recommended reads on a 'water' theme
Read a review of Casting Off, by broadcaster Libby Purves, written by volunteer chaplain Susan Daniels. Susan says: "I would definitely recommend this book to anyone with sailing experience who could empathise, but there is also much humour and warmth in the story for all to enjoy."
Whether you fancy delving into the depths of Herman Melville's epic Moby Dick, or revisiting childhood classic The Owl and the Pussycat, there is something for everyone in our water-themed recommended reads list.
Find out a little more about Kenneth Grahame's 1908 classic The Wind in the Willows, with this presentation for our Love Books social group.
Read about Jerome K Jerome's Three Men in a Boat with this presentation for our Love Books social group.
Delve into a free e-book by Max Sinclair and Heather Wastie, celebrating the restoration of the Droitwich canals through poetry and photography. You can read The Muck and Shovel Brigade here.
Explore how water inspires great art
Read about Japanese artist Katsushika Hokusai and his iconic image The Great Wave Off Kanagawa.
Also known as The Great Wave, the piece depicts the power of the sea and has inspired many artists after him.
Click here to take a look at some craft ideas inspired by Hokusai's famous work.
Further arty reading and activities
Test your knowledge with water-themed quiz!
Do you know which is the world's largest ocean? Or which elements make up water?
See how many questions you can get right in our quiz.
Exercise and wellbeing tips with a 'water' theme
Using water to inspire tai chi
"Anyone who has joined an adapted tai chi session with me will know I often use water to inspire the visualisation for the journey we take through the various moves," says Therapies Team Leader, Alex Drury.
"Use the videos in the link below to stroke a waterfall, push some waves, scoop the sea and go for a swim – all from your living room."
Guided visualisation: cottage by the sea
Let yourself imagine you are sitting in a cottage garden by the sea, on a warm summer's day, with this tranquil guided visualisation.
You will need to ask a relative or friend to read the visualisation to you, while observing the appropriate social distancing measures. Read the guided visualisation here.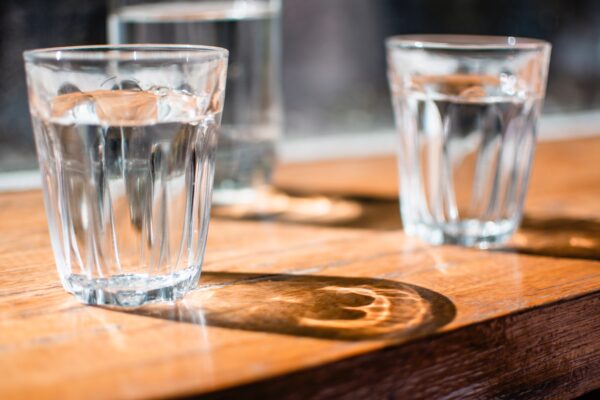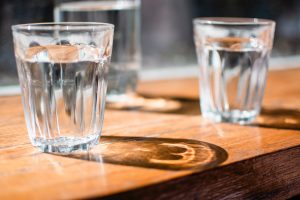 Learn how the 'MMM' technique can reduce anxiety
When we are anxious, our mouths can be dry but when we are calm our mouths are moist. Moistening the mouth will support the relaxation response in your body.
Read about the three steps to a mindful moist mouth (MMM) and learn how drinking a little water can help soothe feelings of anxiety.
More benefits of drinking water
Take a look at some science-based evidence on the benefits of drinking water. This article shows how consuming more water can help with energy levels, relieve constipation, aid brain functioning, help with making saliva – which in turn helps break down food, and more. Read the article.
Meditate with the RAIN
This simple meditation practice can shift us out of our inner turmoil, to a steadier point where we can assess and soothe the waves inside us.
Take a look at this meditation here.
Our stories of living life by, and on, the water
Reflections on living by the sea
"One of the best things about living in north Devon was being so close to the sea, especially as the sun was setting.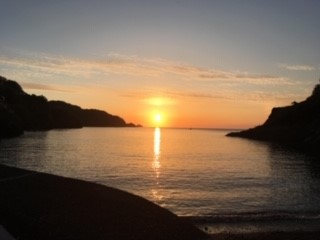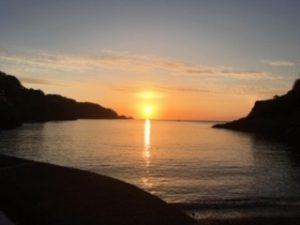 "This beautiful sunset was photographed in Coombe Martin at high tide. I love the tranquillity of the reflection on the water" – Sharon Johnson, Senior Healthcare Assistant, Living Well Team.
'Why I love Highcliffe Beach, Dorset'
"I love this part of the Dorset coast all year round," writes Alex Drury, Physiotherapist. "In the winter months it is windy and wild. In the summer it remains wild and untouched by most tourists.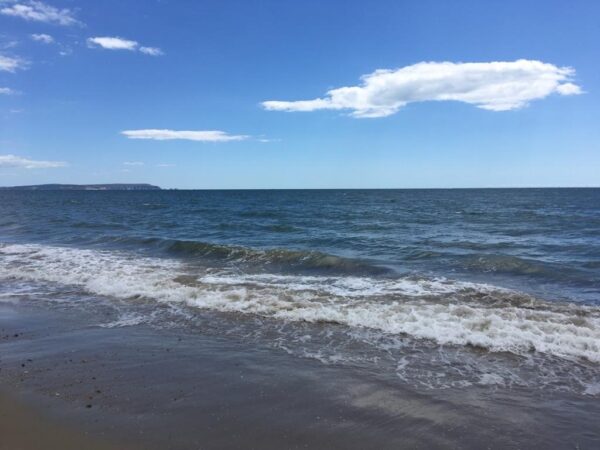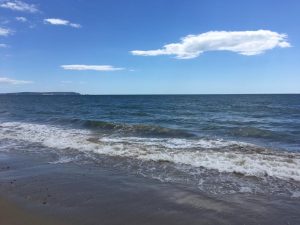 "The children can build sandcastle kingdoms, collect pebbles and shells in their buckets (leaving them behind when we leave) and splash around in the water all year round.
"On the horizon, on a clear day, you can see cruise ships and tanker sailing to and from Southampton. Sailing boats are often seen sailing around the Isle of Wight and to and from Christchurch Bay."
Read more about this beautiful beach, and admire its serenity.
Life aboard a narrowboat
Read how Sarah, a former physiotherapist at St Richard's Hospice, embarked on a new adventure living life on the country's waterways.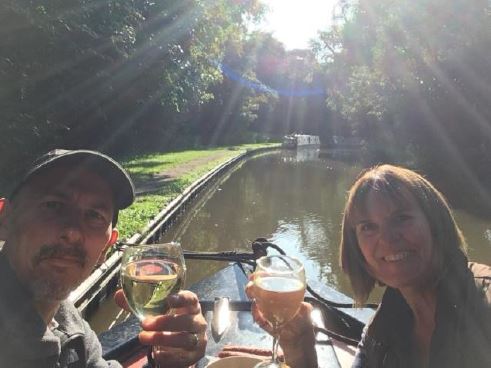 Sarah writes: "It had always been our dream to travel the inland waterways. Four months later we had sold the house, packed all our worldly goods into storage and were living on a 69 foot narrowboat!" Click to read more.
Finding joy in fishing
Keen fisher John Packwood shares some of his memories fishing on rivers around Worcestershire.
Do you like fishing? Share your fishing tales with us! Email us at
Interesting further reading and facts