JOGGERS with a Malvern club have run up a "fantastic" fundraising total for St Richard's Hospice.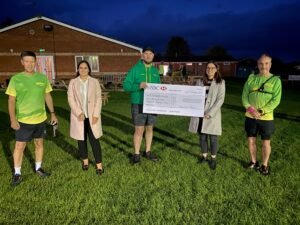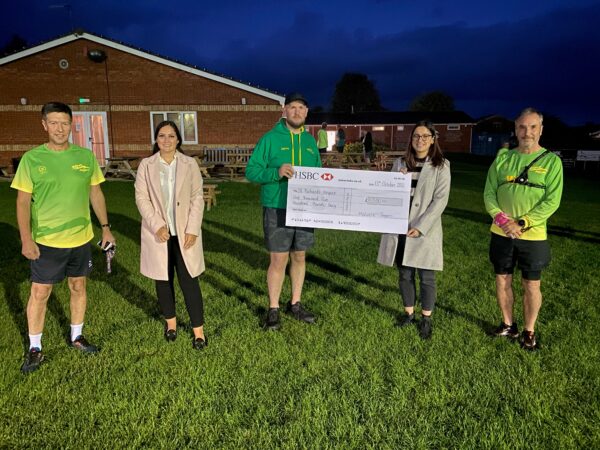 Each year, members of the Malvern Joggers vote to decide which charity to support over the upcoming 12 months – and for 2021, St Richard's Hospice was chosen.
So far, the club has raised £1,500 for the county charity which cares for people with serious, progressive illnesses and their loved ones.
Jamie Francis, Vice Chair of the Malvern Joggers, joined others to present the cheque just a week after his mum's death on the hospice's In-patient Unit.
"When I cast my vote for St Richard's to be the club's chosen charity, I did not know how much I was going to learn about the hospice and how much it was going to mean to me," said Mr Francis.
After falling ill earlier this year, Mr Francis' mum was supported at home by the hospice's Community Team. She moved to the In-patient Unit, in Worcester, in September.
"The care received by mum, and the whole family, was extraordinary," said Mr Francis. "It was a huge sense of relief knowing all of her needs were cared for and we didn't have to worry.
"There is no doubt my understanding of the situation, and the grief I am experiencing, has been made that bit easier thanks to St Richard's. I am forever indebted to them."
Over the past year, club members have raised funds in a variety of ways, including virtual running events during lockdown – and at the Malvern Joggers 10K in Castlemorton, which saw 300 runners compete.
In October, the club presented the hospice with a cheque for £1,500 – but its fundraising efforts continue.
Its members helped marshal The Eastnor Mud Bath event, raising £300 for St Richard's. And, one club member is donating £10 for every copy of his new book sold to fellow group members. The group will also raise funds at its Christmas party.
Kelly Johns, Community and Event Fundraising Manager at St Richard's Hospice, said: "This is the second year running the club has supported St Richard's, and we are so grateful for their fantastic fundraising!
"We rely on donations to fund the majority of our work, with the remainder funded by the NHS.
"It's only thanks to the Malvern Joggers, and others like them who raise funds for our care, that we can be there for people when they need us most."
The Malvern Joggers began in 2003 with around a dozen runners. It now has more than 230 members of all abilities.
Read a blog post by Mr Francis on the care his mum and family received from St Richard's Hospice.