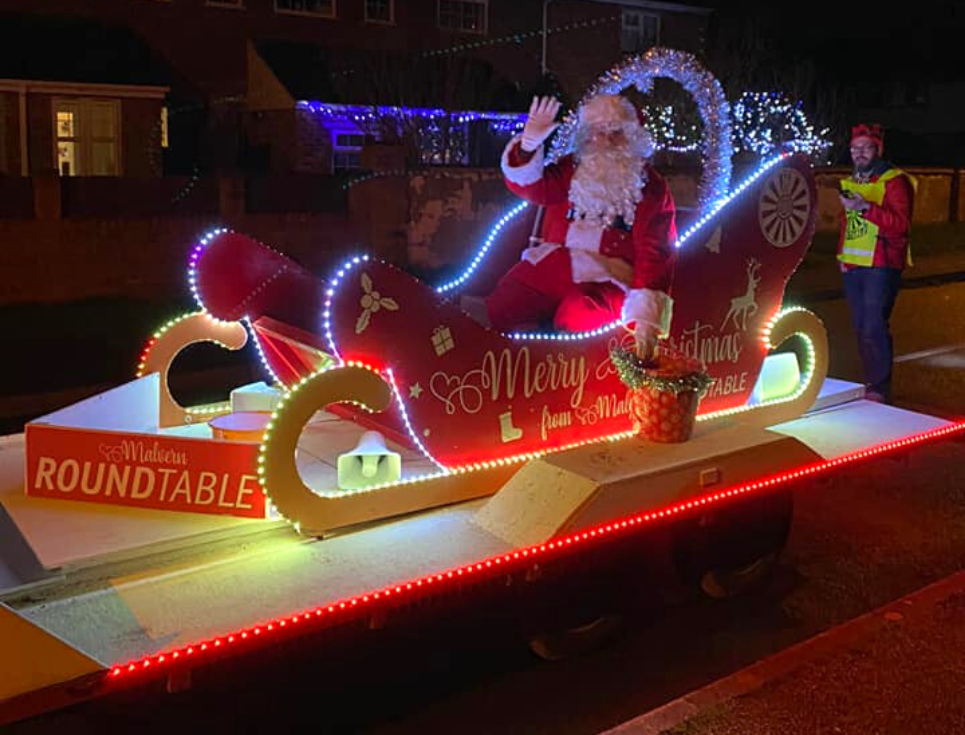 Santa's annual sleigh tour of the Malvern Hills area, organised by the local Round Table, has raised more than £2,000 for a Worcestershire hospice.
Malvern Hills Round Table reinstated the longstanding Christmas tradition in 2019 only for the Covid-19 pandemic to prevent Santa doing his rounds in 2020. With the event back for 2021, the group chose St Richard's Hospice as one of its charity beneficiaries.
Having raised a fantastic £1,265.30 for St Richard's care by touring the local area, the Round Table elves' fundraising efforts were kindly match funded by a member's employer bringing the total amount raised to £2,015.30.
Rhys Humm of Malvern Hills Round Table said: "We loved bringing Santa's Sleigh back to the local community, after Covid prevented us from doing so in 2020.  We've been blown away by the response from the public, with many parents saying they remember the sleigh from their own childhoods and hundreds of delighted children making memories of their own. We can't wait to be back in 2022.
"St Richard's is a cause that means so much to people locally so we were delighted to support them this year."
Kelly Johns, Fundraising Community & Events Manager for St Richard's Hospice, said: "We're so grateful to everyone at Malvern Hills Round Table for choosing us as one of their charity partners this year and raising such a brilliant amount to help us care for local patients and families. We know their elves work tirelessly to bring some Christmas magic locally and they can be proud of the difference they're making for local causes likes ours."