RESIDENTS across the county can have their real Christmas trees collected and recycled in January – thanks to a team of hospice volunteers.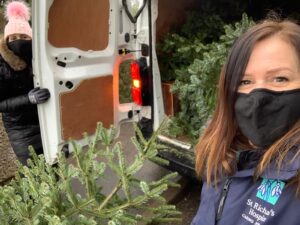 Now in its sixth year, the St Richard's Hospice Christmas Tree Collection will take place on Sunday, January 9 and Monday, January 10.
Households and businesses can register their real tree before 12pm on Tuesday, January 4, and volunteers will collect it to be recycled.
Ria Simons, Fundraiser at St Richard's Hospice, said: "We're very excited to hold our Christmas tree collection again, as it's a great, community-spirited campaign.
"Last year's collection raised an astounding £45,266 – a huge help towards funding our services to patients, their loved ones, and bereaved people across Worcestershire.
"Our latest audited accounts show it cost £8.75 million to run the hospice, which includes patient care and all the necessary support services. We rely on the generosity of our supporters for the majority of our income.
"We are grateful to our community, and the team of dedicated volunteers, who come together to make this campaign a success for St Richard's!"
Volunteers will collect trees in the WR1, WR2, WR3, WR4, WR5, WR7, WR8, WR9, WR10, WR11, WR12, WR13 and WR14 postcode areas.
Anyone who registers a tree for collection will have the option to donate to St Richard's Hospice.
The hospice is also appealing for volunteers to support the collection and recycling of trees. To get involved, email
The campaign is supported by Aptean, which creates route maps to guide the volunteers during tree collections.
Volunteers from a variety of businesses and organisations also support the campaign. This includes volunteers from: 1st Call 24/7, Actively Stronger, ACW Trees, AJM Carpentry, Angloco Ltd, ArrangeMy, Artwork Creative, Baxter Williams, Bespoke Bathrooms, Bradfords, Evesham, Churchfields, Clive's Fruit Farm, CMCA UK, Cotswold Drainage, Denley Tree Surgery, DTS Denning Tree Services, Evesham Garden Centre, Evesham United FC, Gatehouse Brides, Henson Plant Hire, hotelshop UK Ltd, Instant Scenery, Jackson Family Funeral Directors, Jonathan Cook Forestry Services Limited, Karndean Designflooring, Kelly Plant Hire, Leigh Sinton Christmas Trees, MB Tree Care, Midwest Landscaping Ltd, Morris Valeting, Nationwide Building Society, Office Solutions, Open GI, Pace Printers, Parallel Lines, Pershore College, Platform Housing, Rock Power Connections, Sanctuary Housing, Shrubbery Dental Practice, Spring Forward Landscaping, Squab Removal, St Peter's Garden Centre, Stockton Business Consulting, Tewkesbury Van Sales, The Countryside Centre, Worcester, The Worcester Handyman, Three Counties Christmas, Three Pears Tree Care, Walsh Construction, Warren's Removals and Storage, and White Logistics.
A number of hospice supporters are also volunteering alongside the teams from businesses, to assist with collecting and recycling trees.