Students from a Worcester high school visited a hospice to sing carols to patients, families and staff last week.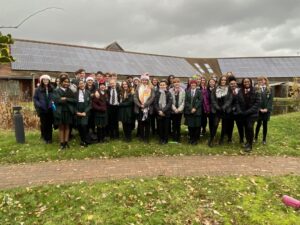 The Nunnery Wood High School choir performed a range of festive tunes in the gardens of St Richard's Hospice on Monday, December 13.
The musical visit formed part of the school's ongoing support for the county hospice, which has seen pupils and staff raise thousands in recent years.
Victoria Owen, Charity Co-ordinator at Nunnery Wood, said: "At Nunnery Wood High School we have strong values that bind our community together.
"Part of this is encouraging our students to have compassion in their hearts for others and understanding what it means to be charitable.
"We are excited to be supporting St Richard's Hospice and working with the fundraising team to plan more exciting events next year."
The school has supported the hospice in a variety of ways, and has chosen St Richard's as its charity of the year for 2021/22.
Fundraising activities in 2021 include: entering participants into the hospice's Santa Dash; a Pre-loved to Re-loved prom dress scheme, which saw students hire prom dresses and suits for a donation of £15; and a Christmas Jumper/non-uniform day which saw students swap their uniform for their most festive, Christmassy jumper or non-uniform on the last day of term.
Design and technology students also made items to sell for donations, and pupils held a stall at the hospice's Festive Lunch earlier this month, raising more than £400 from this event alone.
And, in 2020, students and staff took on the hospice's 100K Your Way and Reindeer Run challenges.
Ria Simons, Fundraiser at St Richard's, said: "It was such a treat to listen to the choir last week, and it certainly brought some festive cheer to those staff, patients and families who were able to watch.
"The students and staff have put so much effort into raising funds for our care. We are very impressed by their creativity and enthusiasm, and are grateful for all their hard work this year.
"It's only thanks to the support of these amazing students and staff, and others like them raising funds for our care, that we can continue to be there for patients and their loved ones when they need us most.
"We look forward to working with Nunnery Wood High School in 2022!"
To find out how to support St Richard's as a charity of the year, visit www.strichards.org.uk/support-us/fundraising/fundraising-at-work/charity-of-the-year