Our quaint Cotswold stone shop in Broadway is called Snowdrops.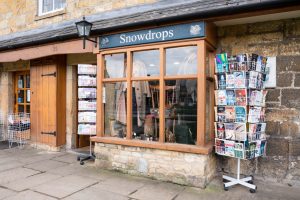 The volunteer vacancies available at this shop are:
Monday afternoons
Tuesday mornings and afternoons
Friday afternoons
Saturday mornings
Sunday mornings and afternoons
Shop floor and back room help needed
Volunteer hours of work are usually 9am to 1pm and 1pm to 5pm. However, we are grateful for any help during these hours and can be flexible. Find out more information, and watch a video tour, of our Broadway shop,.
To register your interest in volunteering at our Broadway shop, fill out the form below and specify the shop name.
Alternatively, pop into the shop and speak to the manager.
Volunteer benefits at Broadway shop
An allocated parking space for volunteers
Scope for volunteers to be responsible for shop departments, such as fashion and jewellery
Broadway sells high end items, such as clothes, soft furnishings and antique furniture. We are looking for people who have particular interests, or expertise in these fields.
Tea, coffee, and biscuits – and a friendly team!
For more information on volunteering contact the HR and Volunteer Department.