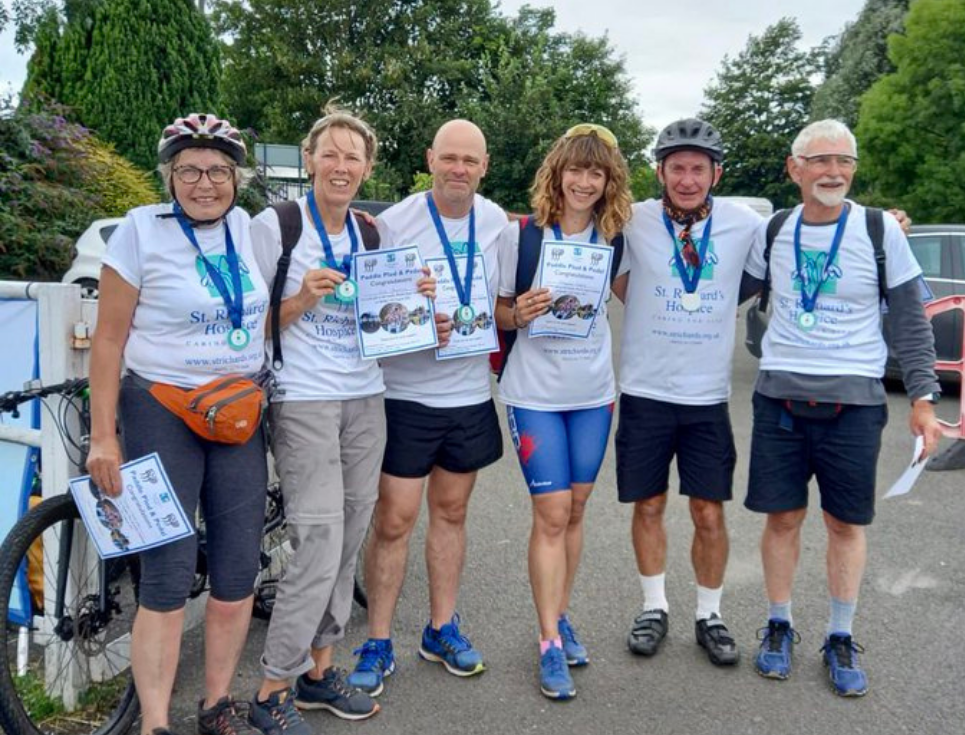 Determined teams of hospice supporters tackled a tough challenge on foot, bikes and in the water to raise funds for a Worcestershire charity.
The teams were taking part in the annual St Richard's Hospice 'Paddle, Plod and Pedal' event, completing approximately 35 miles route on Sunday, 15th August.
The intrepid adventurers paddled bell boats along the River Avon from Pershore to Tewkesbury, walked on to Severn Stoke then pedaled back to the start. They were rewarded with a well-earned medal, refreshments and a great sense of achievement at the end of the hospice-organised event.
The teams included one from the hospice's own staff from the Living Well Services. Charlotte Nicholls, Physiotherapist, said, "The challenge was exactly that – a challenge! All eight of us found different aspects of the day more difficult than other parts, but we all supported each other and worked together to complete the day together in Pershore. We were so well supported on the way by colleagues and family members, and also members of the public – we were given donations whilst sitting in a lock on the Avon and whilst cycling our bikes through the countryside in the early evening!"
Ria Simons, Fundraiser at St Richard's Hospice said; "With the weather being kind to us and rain holding off until the evening, it was great to see all the teams pulling together and having fun, even when the going was tough. Their hard work and incredible fundraising has topped £7,000 with this total still rising!"
"We also want to thank the great team of volunteers who helped ensure the day ran smoothly, and without whom it would be impossible to run the event. We are so fortunate to have brilliant and dedicated supporters who raise funds and volunteer for St Richard's.
St Richard's Hospice cares for adults with a serious progressive illness, improving their quality of life from diagnosis, during treatment and to their last days. It also supports their loved ones.
Each year the hospice team supports 3,000 patients, family members and bereaved people in Worcestershire.
St Richard's is an independent charity and relies on donations and gifts in Wills for the majority of its income with the remainder funded by the NHS.