A valuable set of The Lord of the Rings on sale for £1,495 has been stolen from a hospice charity shop in Worcester.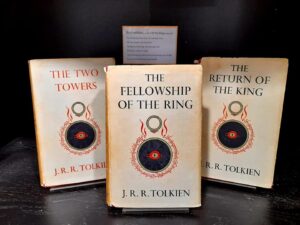 The three-volume set – which includes The Fellowship of the Ring, The Two Towers, and The Return of the King by J.R.R Tolkien – was taken from a locked display cabinet at the St Richard's Hospice shop in St Swithin's Street.
The theft took place on Sunday, December 19, at 12.33pm, and has been reported to the police.
Dan Corns, Commercial Director at St Richard's, said: "We are saddened by the theft of these beautiful, valuable books.
"The volumes were on sale as a set for £1,495, reflecting the quality of the editions.
"The perfect addition for any collector or Tolkien enthusiast, they could also have raised a substantial amount towards our hospice care.
"For this to happen less than a week before Christmas, and during a difficult time for all in the charity sector, is especially upsetting.
"We appeal for anyone with information to contact the police, and hope the books can be returned to us."
The hardback books feature first edition text from 1954, but were all published in 1957. They are first editions, but not first printings.
Each volume has a map of Middle Earth attached to its back cover. The books are in good condition, with some wear and tear to the dust jackets.
The copy of The Fellowship of the Ring includes an inscription on the inside cover which reads: 'To F.W. Patterson. On his retirement 1980.'
The three books form a trilogy. The first volume is the seventh printing, while the second volume is the fifth printing, and the third volume is the third printing.
Please contact police on 101 quoting crime reference number 22/114107/21 with any information.