This Volunteers Week we are saying a huge heartfelt thank you to all 780 of our amazing volunteers who give their time, expertise and life skills in every aspect of St Richard's.
These hospice heroes volunteer in more than 50 different roles across the organisation – everything from gardening and reception to counsellors, complementary therapists, in our shops and administration – and so much more!
During the week, we'll be sharing stories from a number of our volunteers to showcase just some of the excellent work done across St Richard's.
Jenny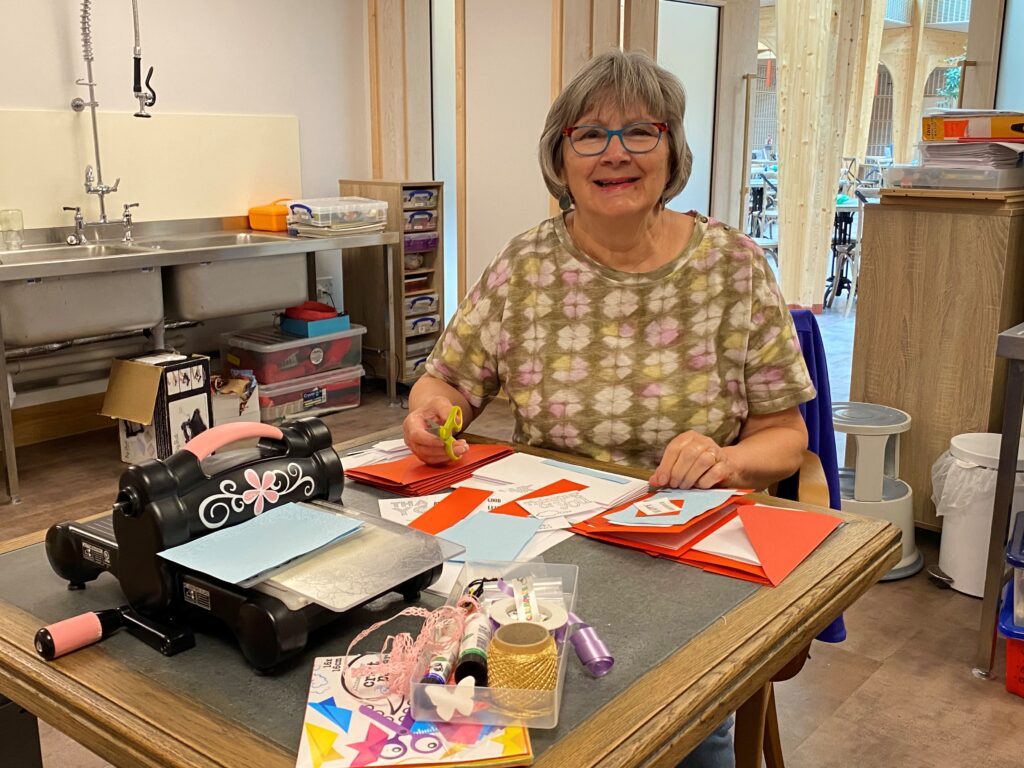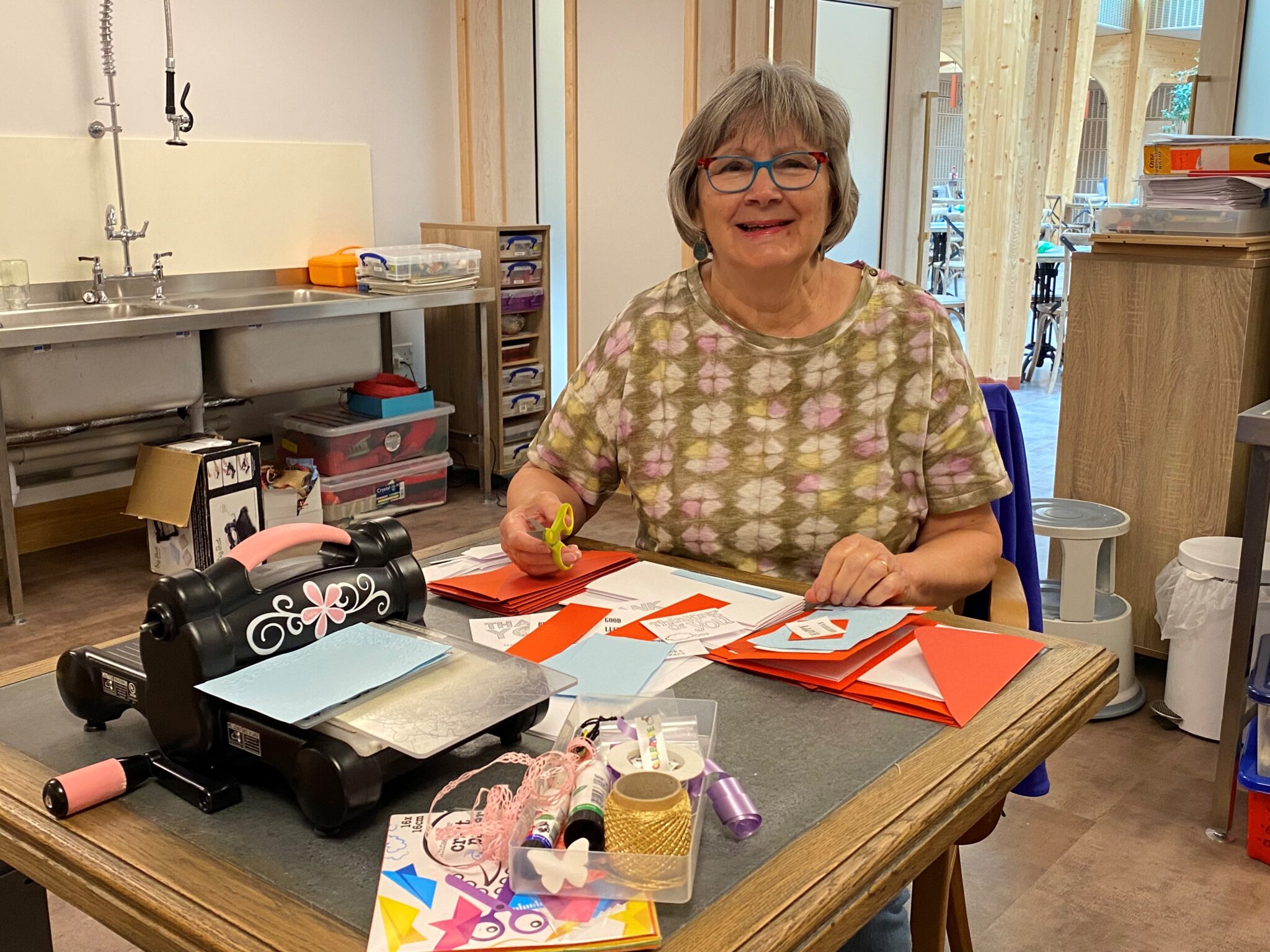 I started volunteering after my husband died nearly ten years ago now. He had MS for the last 12 years of his life and then, out of the blue, he was diagnosed with a brain tumour-grade 4, very aggressive, inoperable.
He died seven weeks after diagnosis. He wanted to be at home, which I was able to give him, with the help of St Richard's Hospice at Home team.
St Richard's has been enormously supportive to us all as a family, both at Dave's end-of-life care and to us all in bereavement. I wanted to try and give a little back. I started volunteering with day patients, which I loved. I mainly helped with creative therapy, but I mucked in generally too. We did one day a fortnight. I decided I could offer a bit more time, so I joined the community volunteers. I visited patients at home, doing light housework, shopping, but mainly just company. I visited up to three or four patients on a weekly, or fortnightly basis. I visited some people for several years. It is an enormous privilege to be invited into a patient's home. These people became friends. I really enjoyed it. Of course, Covid stopped us in our tracks.
But I continued to help, supporting online groups such as Art Club, craft groups (journaling, craft, zen doodling etc). And I sometimes help by preparing craft packs at home. That's where I am now.
I want to continue volunteering as long as I can be useful. I really enjoy it. I get a lot from it, and I know St Richard's appreciates the work of all its volunteers. I know patients appreciate it too. And that makes it all so worthwhile."
Gwyneth
Gwyneth Adams, has been involved with St Richard's for the last 17 years.
Over that time Gwyneth has taken on a range of roles from volunteering in supporting day patients, working with bereaved families, carers and patients and being a friendly face on reception.
She says, "It has been interesting to see how the various departments relate to one another and being involved in three different areas has given me a privileged insight.
I have worked alongside staff running bereavement support groups and witnessed the relief felt by group members from being in the company of others who know how they feel. I have also supported clients on a one-to-one basis and I am delighted that face-to-face work in Family Support is being gradually phased in again as throughout the pandemic I have found the telephone-based client sessions a real challenge but absolutely appreciate why it had to be this way. The training and ongoing supervision sessions have been so helpful and professional.
Similarly, the main reception is gradually opening up and it's so good to be able to meet a few more people even if it's from behind a Perspex screen. When working on reception you never know who is going to come through the door or what telephone queries you might have to deal with and that's part of what I enjoy about it.
My mother, an early supporter of the hospice movement, was a volunteer with St Richard's when it was based in Castle Street and so it was always in my mind to volunteer at the hospice myself when I retired. Right from childhood, death and dying were never taboo subjects in our home, partly due to close family bereavements, and so it felt natural for me to gravitate towards St Richard's. I am so glad that I did as it is an incredibly supportive environment and I think the more we can do to dispel the myth that a hospice is a depressing place where you go to die, the better.
Susannah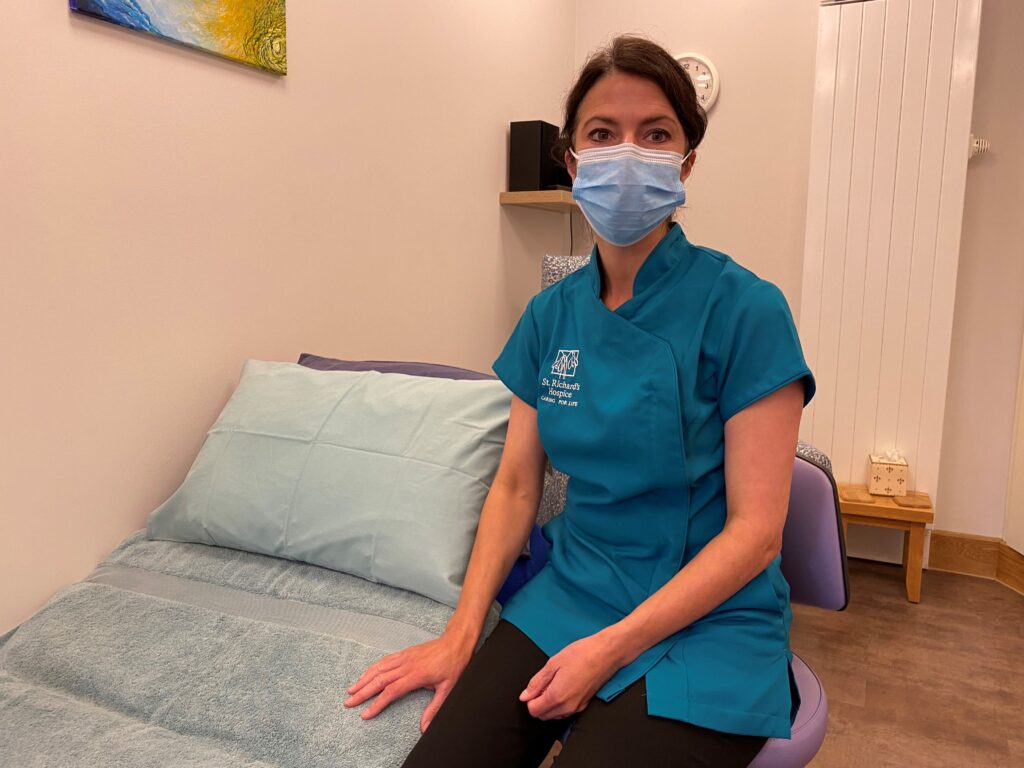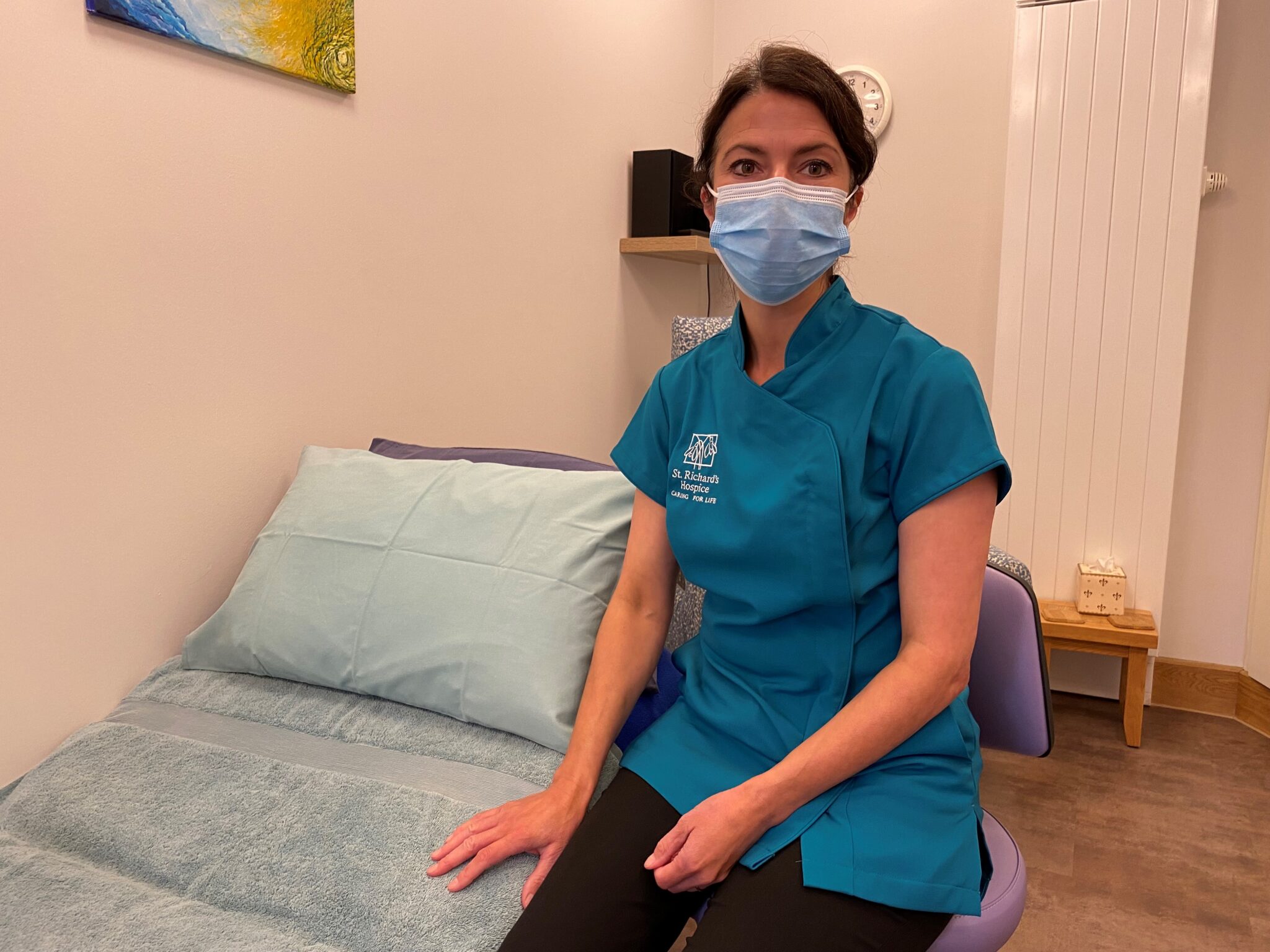 Susannah is part of the complementary therapy team who offers treatments including aromatherapy, reflexology and massage.
"I signed up as a volunteer for St Richard's in November 2019. My husband had just had an operation to remove a rare sarcoma from his arm and whilst waiting for the scan results to see if it had spread, which thankfully it hadn't, it made me think about all those that didn't get such happy news. I have been a therapist for many years and had recently qualified in oncology massage. I thought that helping patients within a hospice would be really rewarding, St Richard's were needing help in the complementary therapy department, so I made contact and started my journey as a volunteer.
"When the Covid pandemic hit the therapies were moved to virtual sessions and I was asked to help support patients each week through Zoom. Sometimes I would work with a member of the family or a carer and teach them to give a back or scalp massage. The sessions could include, massage, relaxation, mindfulness and gentle stretching. Each session is designed around the individual patient and their needs on the day.

I am now back at the hospice giving hands-on therapies which is wonderful. I volunteer here because it is a way in which I can help support someone who is suffering to feel a little bit brighter and cared for. It is a privilege to meet the patients and helping them makes me feel good too! The staff are so friendly and the hospice has a caring positive atmosphere. I would highly recommend others to join."
Rob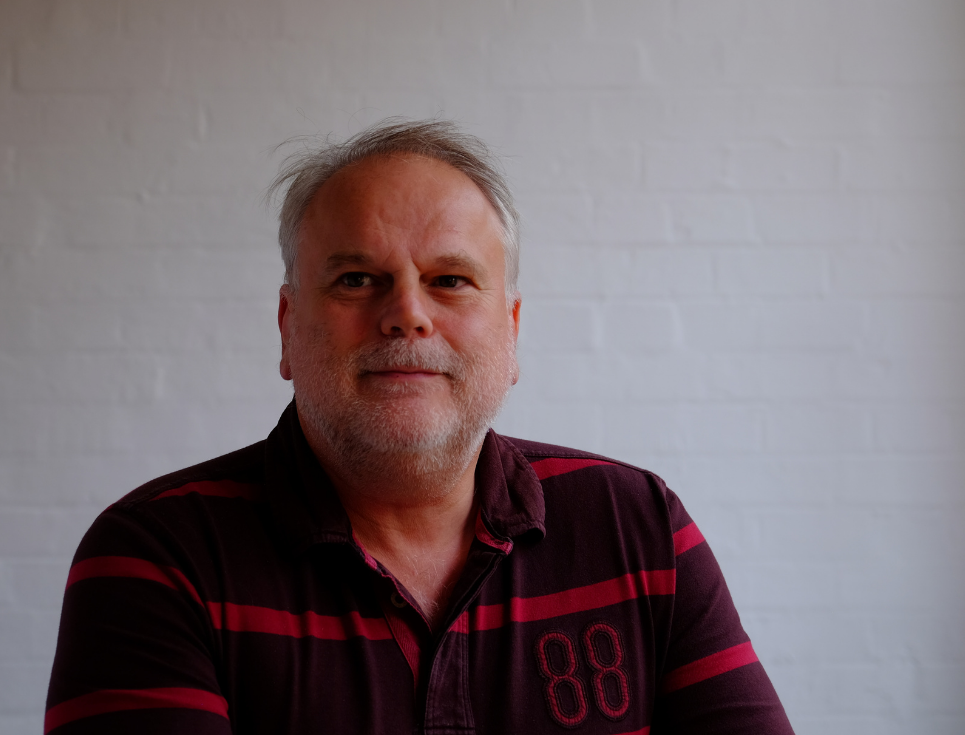 I have volunteered with St Richard's Hospice since 2008, starting out in what was then called Day Hospice.
I'd help prepare for sessions and serve food, but mainly I would sit and talk to people. I thoroughly enjoyed this role.
Following some training, I joined the Family Support Team to work one-to-one with bereaved adults.
We'd meet and talk through their problems and fears. I soon learned what worked best was for me to listen and for them to talk. I'm continually amazed at how letting people talk through their problems in a safe space is beneficial.
Volunteering with Family Support meant I was able to work in evenings and weekends. This was easier for me to fit around my day job.
I went on to work with children – something I was nervous about at first. It was much to my surprise that I really enjoyed it! In fact, some of my most rewarding bereavement work has been with children.
I now support group sessions for families, including the Dragonfly Group for bereaved children.
Group work is a different dynamic to one-to-one support, but it relies on the same listening skills and giving people space to express themselves.
I also volunteer with walking groups, combining my hospice role with a favourite pastime.
These monthly walks are relaxing and it is great to talk to people as we stroll. However, the one skill I bring that I think people are most grateful for, is my ability to read a map!
I have made many friends during my 14 years with St Richard's. I find the work extremely rewarding and would thoroughly recommend it to anyone looking to volunteer in their community.
Sue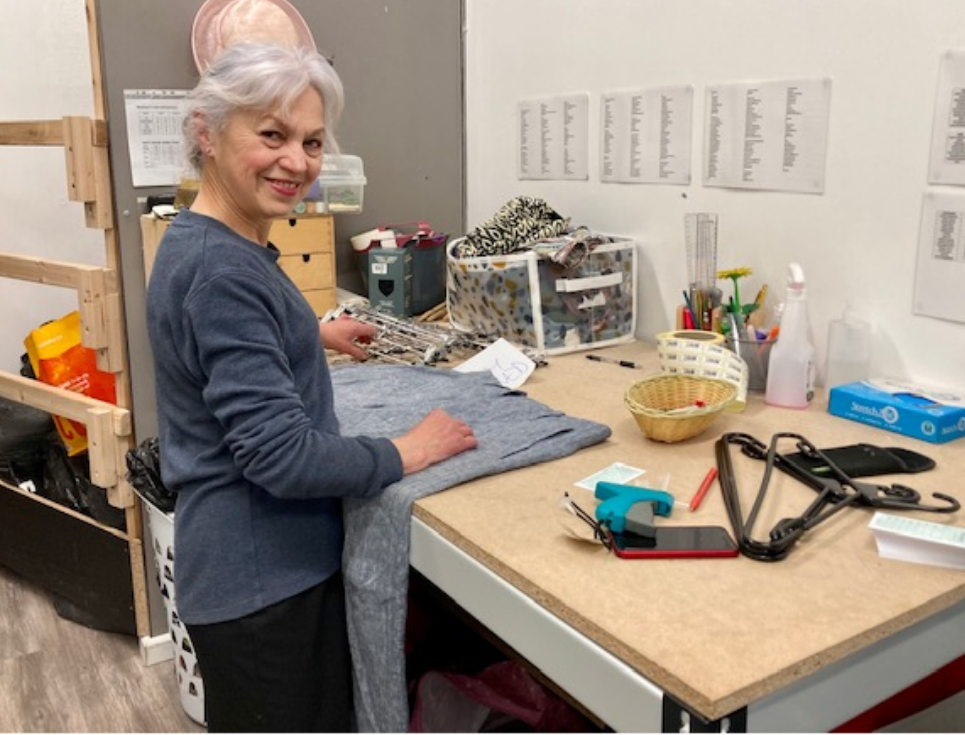 I was employed in retail for nearly thirty years but stopped working when my husband was diagnosed with a terminal illness in 2019. I'd always liked the St Richard's shop in Kidderminster and thought it would be a nice place to work. I wasn't wrong. I really enjoy the time I spend there. Bev, Jen and the other volunteers are all so lovely to work with and it's good to have a reason for being woken by an alarm clock three mornings a week!
First of all I worked in the book section of the shop which I loved but one day did some sorting and steaming which I enjoyed too and that has now become my main job. There is always plenty to get on with and the time flies by.
I'd definitely recommend volunteering at St Richard's. The shops are attractive and well looked after and any job which involves meeting the public is always varied and interesting. It's fun without the pressure of paid employment and satisfying to know that we are making money which will eventually be used to make life that bit easier for patients and their families at a difficult time.
Hayley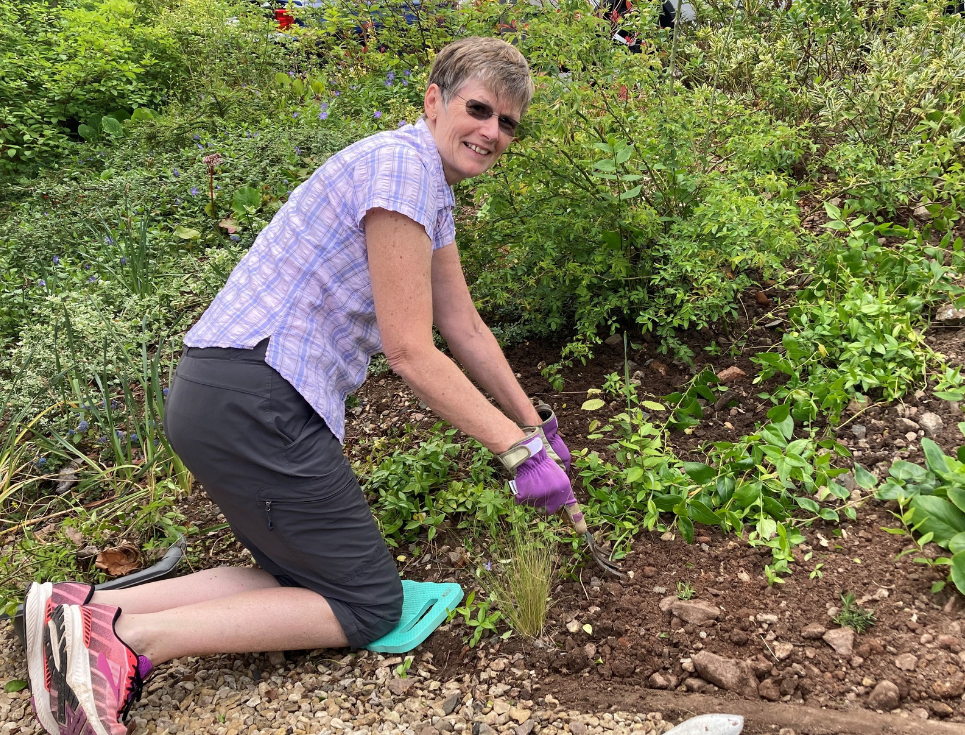 New volunteer gardener Hayley Thompson is already hard at work keeping the flower beds at the front of the hospice in tip top condition.
Hayley, who has recently finished 20 years working in delivering IT solutions said, "I wanted to do something physical as a volunteer as I've been sitting behind a desk at work for so long. Being a volunteer gardener gives me that and volunteering for St Richard's helps me give back to the community.
"I like the fact that the role is flexible to when it suits me to come along and in the winter I'll have the option to cross-train into other volunteer roles."

Maureen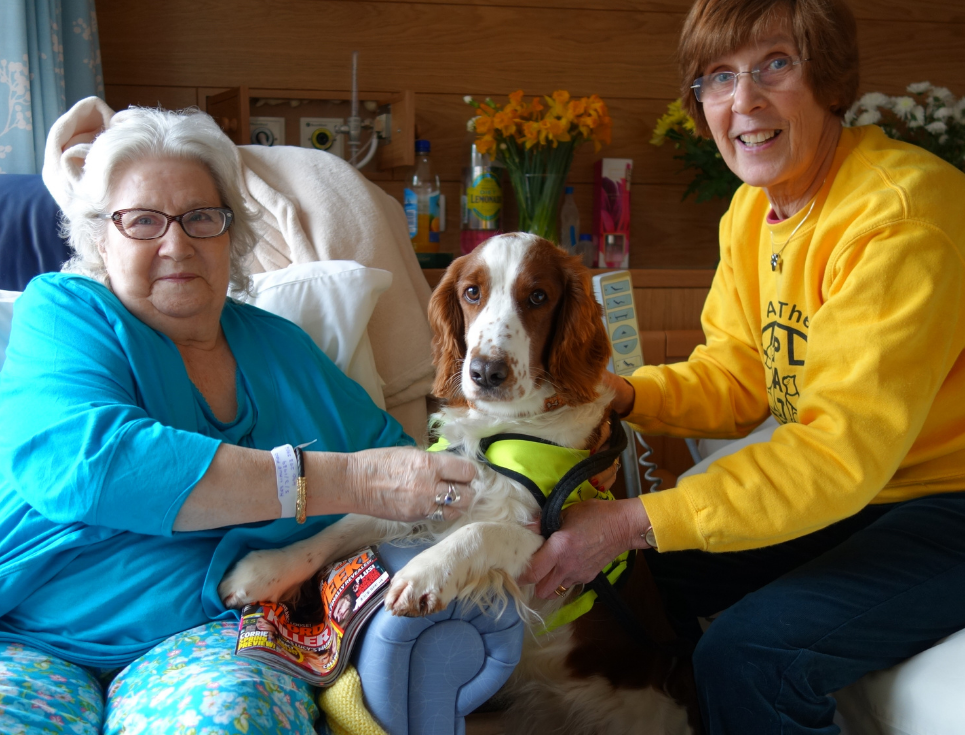 Pets as Therapy volunteer Maureen has long delighted patients, families and staff when she brings her beautiful dogs to visit.
Maureen said, "I enjoy taking my dogs Meghan and Pip into St Richard's. It's lovely to talk and hear about people's dogs. We missed it for the last couple of years but are glad to be back.
I loved to see patients' faces when they meet my dogs. My greatest memory was when I bought Meghan's puppies in when they were six weeks old. They were enjoyed by patients and staff – their smiles will remain with me forever, such a lovely happy day."
Katie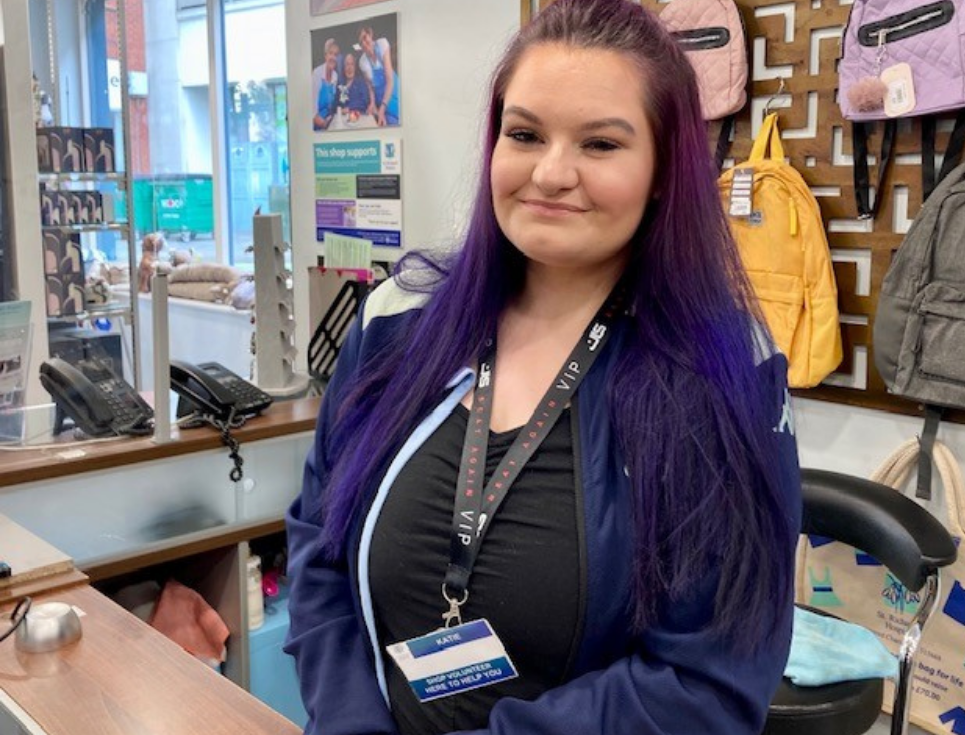 Young volunteers make a fantastic contribution in their community.
Volunteers like Katie in our Kidderminster shop.
Katie originally worked in the shop as part of the government's Kickstart scheme then at the end of the six-month placement stayed on as a volunteer.
"I wanted to become a volunteer because I love the people I work with, the charity and meeting and talking to our lovely customers every day. Working for St Richard's has boosted my confidence within myself a lot. I would definitely recommend more people to volunteer – it's an amazing opportunity to meet new people, learn new skills, build up on your confidence and to work with a friendly and encouraging team."
Margaret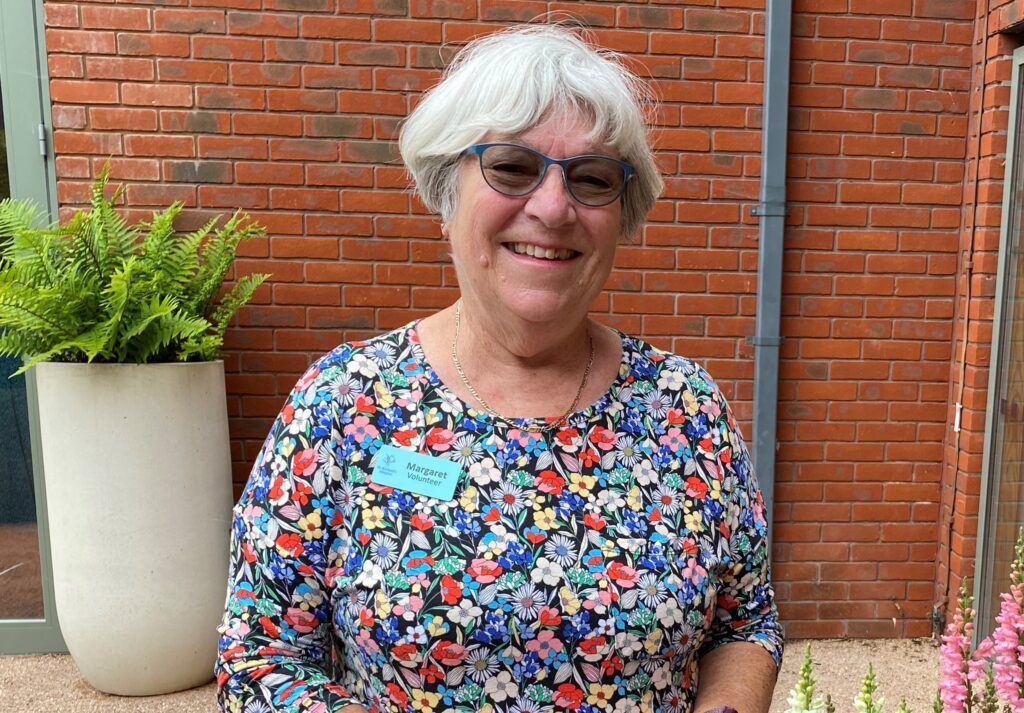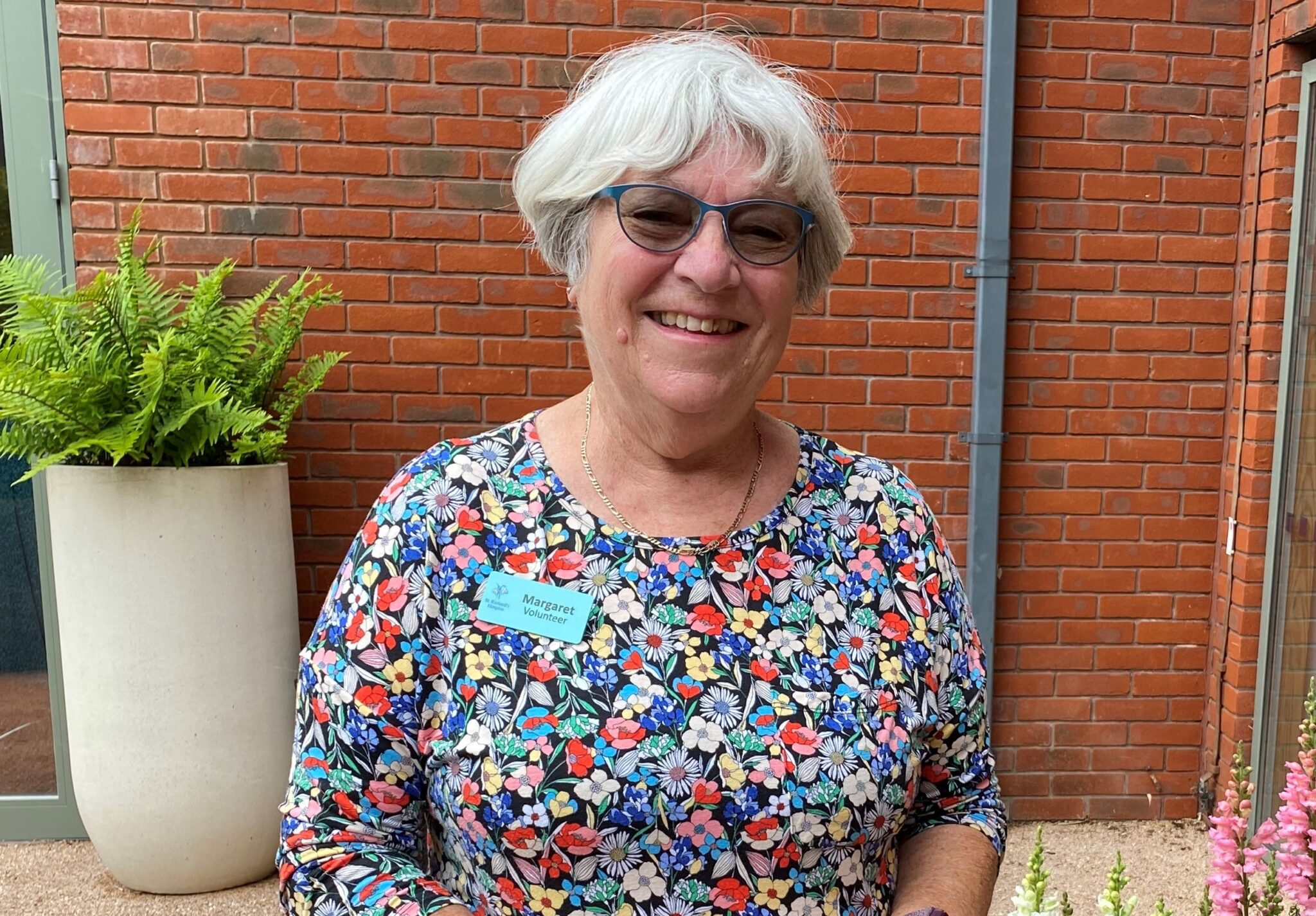 "My first knowledge of St Richard's Hospice was in the 1980s when I went to a talk given by Dr Jenny Bulman about starting the hospice. I am not one to ask questions after a talk but I can remember that I was moved to ask "Was there any support for relatives after death?" The answer was 'yes' and I thought back then that I would like to volunteer at some time. I was unaware that I would one day be on the receiving end of the wonderful care that is offered by St Richard's Hospice.
My family has suffered several deaths from cancer and I was able to access help from the St Richards team for my husband's care during his cancer and for counselling for myself following his death.
In 2011 I became a volunteer in both the day hospice (now Living Well) and reception/admin within the Snowdrop Centre. I love being part of the hospice family and a team member in the Living Well Centre. My role within Snowdrop has ended now. During Covid I have enjoyed Zoom meetings on the Sharing Stories course and it is a delight to hear the stories of those taking part. It gives me a lot of satisfaction to be able to repay, in a small way, all the invaluable help I have received. I have met some lovely people in the patients, clients, other volunteers and staff. So many have inspirational stories to tell and I am amazed at their strength in the most difficult circumstances.
So, thank you so much St Richard's Hospice for being there when I needed someone and then offering me a purpose for life in the role as a volunteer."