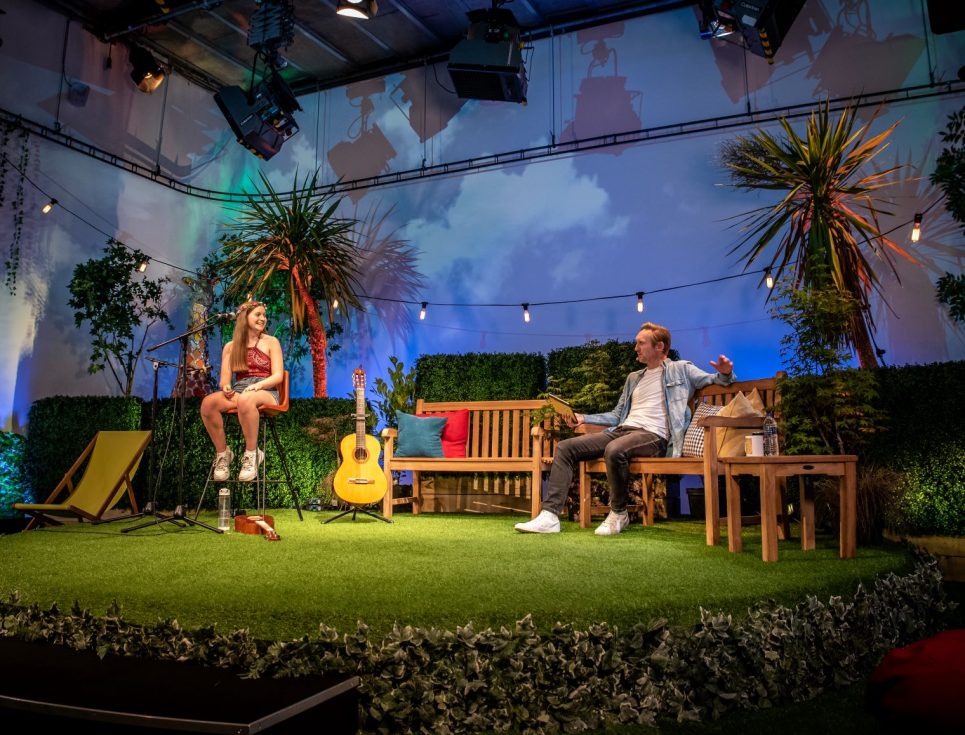 Organisers behind a well-loved county music festival have vowed the show will go on – virtually – for a second year running; ensuring proceeds can continue to support a local hospice.
Woo Fest, which is held each year in Upton upon Severn, will take place virtually on Saturday 19 June with the festival streamed live to homes and gardens around Worcestershire and beyond thanks to local creative communications agency DRPG.
After a successful virtual event last year, where music-lovers tuned in from as far afield as Australia and the US, the festival will feature live and pre-recorded sets from well-known UK artists and Woo Fest regulars.
Luke Simons, festival organiser, said: "When we couldn't hold a live festival last year we had no idea how well a live-streamed event would work out, but were determined to press on and continue to raise funds for St Richard's. We had an amazing response from celebrities and local acts and saw music fans tune in from across the globe. And we raised more than £13,500 for the hospice in a day!"
Since its inception in 2015, Woo Fest has donated all its proceeds to St Richard's Hospice and to date has raised more than £70,000 for the charity, which cares for patients living with a serious progressive illness and their loved ones.
The festival was set up by Mr Simons and his sister, Ria, in memory of their father, John Simons, who was cared for by the hospice before he died in 2013. Mr Simons' father-in-law was also cared for by St Richard's before he died last year."
"Woo Fest has always had special significance as a means of giving something back to St Richard's, who cared for my father in 2013," said Mr Simons. "Then last year the hospice was there for our family again when my father-in-law became unwell and died. When you've experienced hospice care first-hand, and seen the incredible support for patients and their loved ones, you want to help ensure that service is there for other local families who might need it.
"So, we'd love the county to get behind our charity event once again this year and set up a festival in your own home or garden. Woo Fest will bring the music!
"It won't be a ticketed event – anyone can watch online for free – but what we do ask is that people donate to St Richard's while they watch. Donations can be made quickly and easily online, by text and by phone. Let's come together to celebrate some great music and make a difference for local people at the same time."
Tricia Cavell, Fundraising Director for St Richard's Hospice, said: "It remains a challenging time for charities like us with limited fundraising events able to take place and charity shops only just having reopened.
"Each year, we are blown-away by the Woo Fest team's efforts to raise money for St Richard's and are so grateful for their tireless support. We also must thank the incredible team at DRPG, who are giving their time for free to deliver another first-class, live-streamed event, and to our fabulous hosts Richard 'Hursty' Hurst and Nina Das Gupta.
"Without support like this, we couldn't continue our care for patients and loved ones when they need us most."
Woo Fest will take place on Saturday 19 June and will be live streamed on the DRPG Communications website. The event will get underway at 3pm and run until 10.30pm.
With thanks to headline sponsors The Butcheress, Lowes Garage, Smiths News and Evans Halshaw Kia Stourbridge.
To find out more, visit https://www.strichards.org.uk/event/virtualwoo/