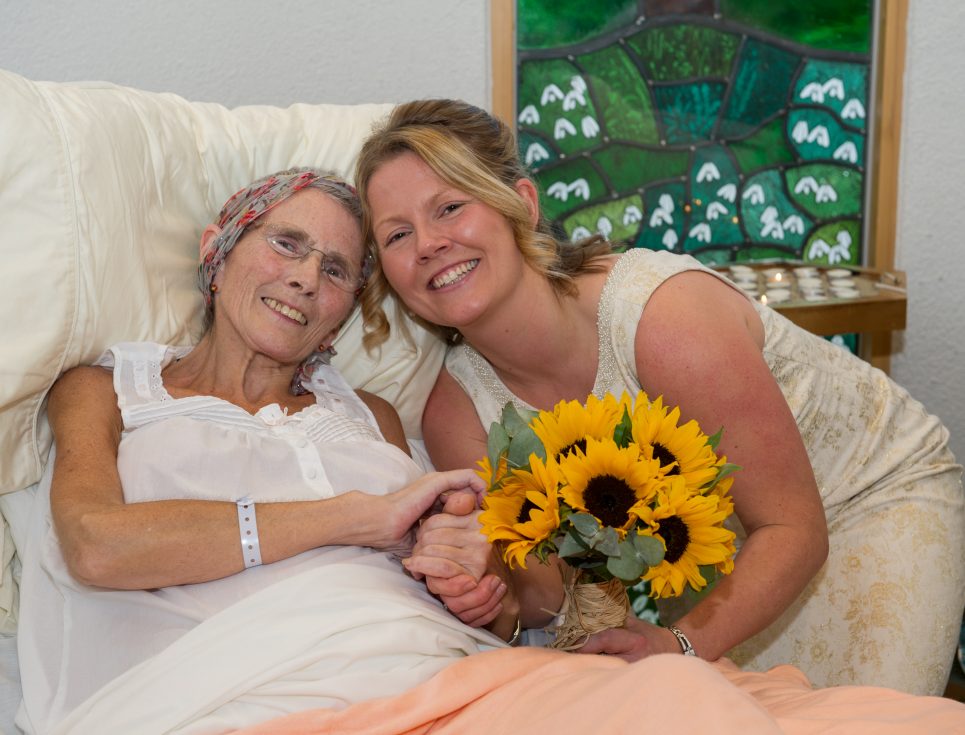 Abi's story
Hello,
I want to tell you about my Mum, Penny, and how St Richard's helped to make her last dreams come true. When I was growing up, my parents often mentioned St Richard's – my Dad actually helped set up the clergy team there. But I'd never been to a Hospice before. To be honest, I thought they were a bit sad and scary.
When Mum got cancer, she spent some time at the hospital. But she was always thinking ahead – as she became more poorly, her hope was to go to St Richard's. I remember so clearly the relief and excitement in her voice when she found out she had been given a bed at St Richard's.
My fiancée, Kev, and I were planning to get married in Spain in 2015. Sadly at the end of 2014 Mum's health started to deteriorate quickly and we knew that she wasn't going to make the wedding. Everyone wants their parents there when they say 'I do' so we started exploring other options.
Once Mum had been admitted to St Richard's, and with their help, we were able to plan a wedding blessing in two days which took place in the 'Sacred Space'. It was a bit of a whirlwind but I quickly bought a dress, my brother Pete arranged some catering and a photographer, and my Dad, who's a vicar, was on hand to lead the service. We joked that we were having a 'shotgun wedding'.
I remember looking over at Mum during the service. She was so tired, but she'd put on a beautiful headscarf and had a huge smile on her face. Everyone was so happy in that moment, even though we knew that one of the saddest days was yet to come.
A few days later, in the early hours of Christmas morning, my brother called to say that Mum had died. I went straight into St Richard's to say my final goodbye to Mum and to thank the staff – the fact they were not spending Christmas Day with their families was not lost on me despite our own awful circumstances. I was back home by 7am to be greeted by our excited toddler who was keen to open her stocking. We spent Christmas Day together with all the family and had a relatively 'normal' Christmas – eating, drinking and playing with toys. That's what Mum would have wanted.
We're all lifelong supporters of St Richard's now; instead of wedding presents, we asked everyone to donate to the Hospice. Naomi, my cousin Jen and I have done lots of running events and we just did a sky dive. I know now that hospices aren't scary places – they are respectful and caring places that will go the extra mile to accommodate the final wishes of their patients.
It's only a little while till Christmas now and nearly a year since we shared that unique and special wedding blessing together. We will remember how happy it made Mum and I am so grateful to St Richard's for making it happen. I hope, if you can, you'll help St Richard's to make wishes come true for other families, just like ours.
You can donate here,