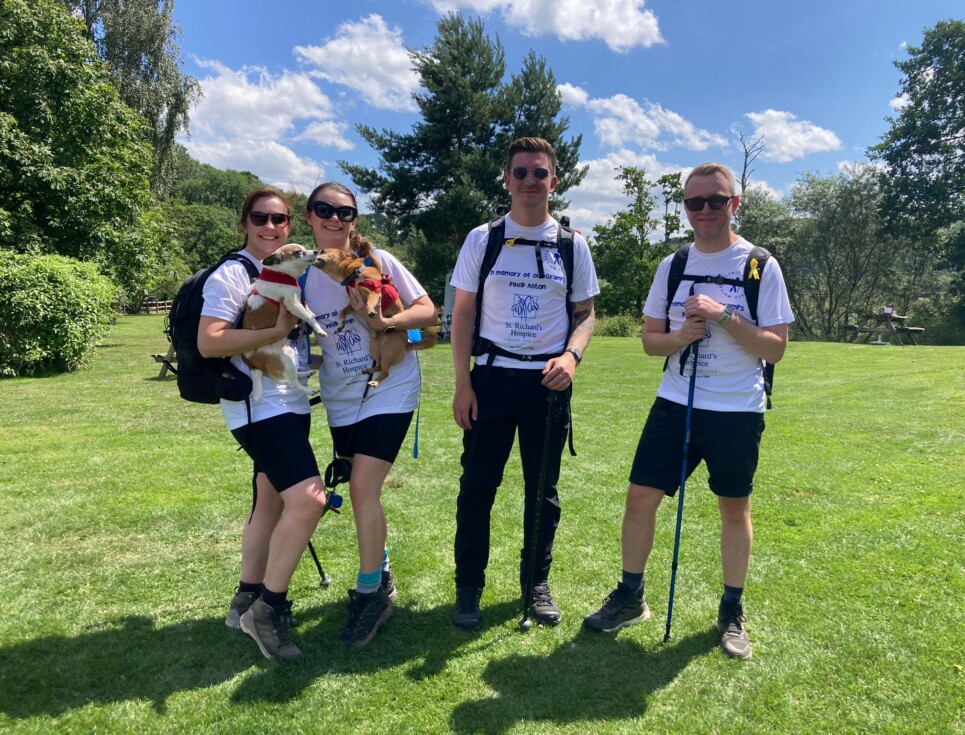 Walkers who took part in an annual 31 mile walk in soaring temperatures have raised more than £11,000 for a local charity.
The 60 intrepid walkers strode out on a challenge to walk the whole of the Worcestershire Way in a day to raise funds for the care of St Richard's Hospice across the county. (on Friday 7 July)
The teams and individual walkers, along with some runners, took on the challenging 31-mile dawn 'til dusk trek in aid of St Richard's Hospice.
The walkers began in Bewdley and trekked across Worcestershire countryside before reaching the first refreshment stop at Abberley Hall school. There, local volunteers had laid on a nourishing array of cakes for the hungry walkers. Next stop was lunch courtesy of The Talbot at Knightwick where volunteer massage therapists from Glenfall Massage and Worcester Wellness helped ease aching muscles.
After a tough steep climb on the Malvern Hills the walkers completed the challenge and received their certificates and congratulations at The Red Lion in Malvern.
Alison Parkes, Fundraiser at St Richard's Hospice, said; "despite the hot temperatures the walkers stayed motivated and together have raised an incredible amount for our care of patients and families."
She added; "Many people took on this challenge in memory of someone special, as a way of saying thank you for the hospice care they received. But often at the end of the walk they realise that they have achieved something fantastic for themselves too. We are saying a huge thank you to all the walkers for their incredible dedication and perseverance in keeping on until the end of the walk."
The event was kindly sponsored by Hagley Homes.
St Richard's Hospice is an independent charity caring for adults with a serious progressive illness, improving their quality of life from diagnosis, during treatment to their last days and supporting those important to them.
Each year the hospice team supports more than 3,100 patients, family members and bereaved people in Worcestershire.
It costs £9.72m to run the hospice (21/22 audited accounts), which includes patient care and all the necessary support services.
St Richard's relies on donations and gifts in Wills for the majority of its income with the remainder funded by the NHS.
See our picture gallery of the event on Facebook