"We are hospice care"
Today marks the start of Hospice Care Week.
This year's campaign focuses on celebrating the workforce of hospices across the UK.
Our staff and volunteers are united in a common goal: providing the very best care for patients and their families.
Whether they work or volunteer in patient care, in our shops, or in a support role, everything our team does focuses on ensuring patients live as well as possible with their condition.
This Hospice Care Week, we shine a light on just some of those who make our hospice care possible.
Below, you'll meet staff and volunteers from across our departments. You'll gain an insight into a day in their working lives, and learn what motivates them in their roles. Click the links to see their stories.
If you're interested in joining the team, take a look at our volunteering vacancies and job opportunities.
---
Watch: A glimpse into the working days of clinical staff at St Richard's
---
Meet the warehouse team
The team at our warehouse in Leigh Sinton handle a huge operation to process thousands of items generously donated to us each year ready for sale in our shops.
They are an integral part of St Richard's, helping us raise the funds we need to continue our care to patients and their loved ones.
Read a piece written by the team on life at the warehouse.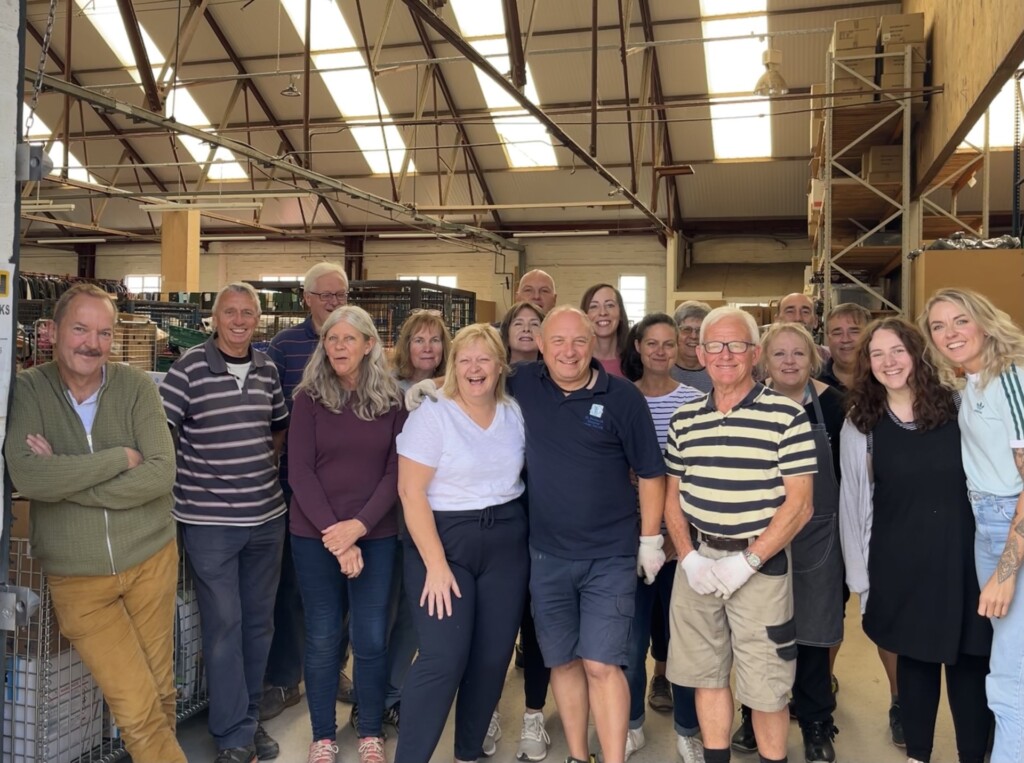 Our Leigh Sinton warehouse recently reached its 16th birthday.
When we opened in 2007, the hospice had 11 shops. Those that saw the building were amazed at how vast the space seemed and doubted we'd ever fill it. Inside was a big broom, a lot of flies, and not much else.
Sixteen years later, there's now rather a lot of else. It staggers visitors, when they see what we deal with.
Three, sometimes four, vans full of donations from the shops arrive every day and we can receive over one hundred bags and boxes from donors at the door.
Each month the warehouse will send out well over a hundred rails of clothing, thousands of books and items of bric-a-brac, tested electricals, new goods, furniture, loo and till rolls for the shops, you name it.
We recycle hundreds of tons of rag clothing, unsaleable books, and scrap metal, we're the hub of the hospice's online sales operation and, we hope, most of the time we do it all with a smile on our face.
None of it would happen without our volunteers and staff.
That stylish jacket we sent to the shop is there because one of our people saw it, picked it out from the pile and hung it on a rail. Someone selected that beautiful book or that nice vase, recognised its worth, and put it in a box. One of our drivers loaded it into his van and delivered it safely.
Those old motoring magazines made £150 for the hospice because someone at the warehouse saw them, knew they were worth the time, photographed them, wrote a description, and listed them on eBay.
Since 2007 there have been immense changes in how we do things, and even bigger changes are on the horizon.
The warehouse and those that work there will do what we always do; get stuck in and sort it all out with a smile – and, when we can see the floor, keep it swept with the big broom.
---
A day in the life of Wendy Craige, Front of House Receptionist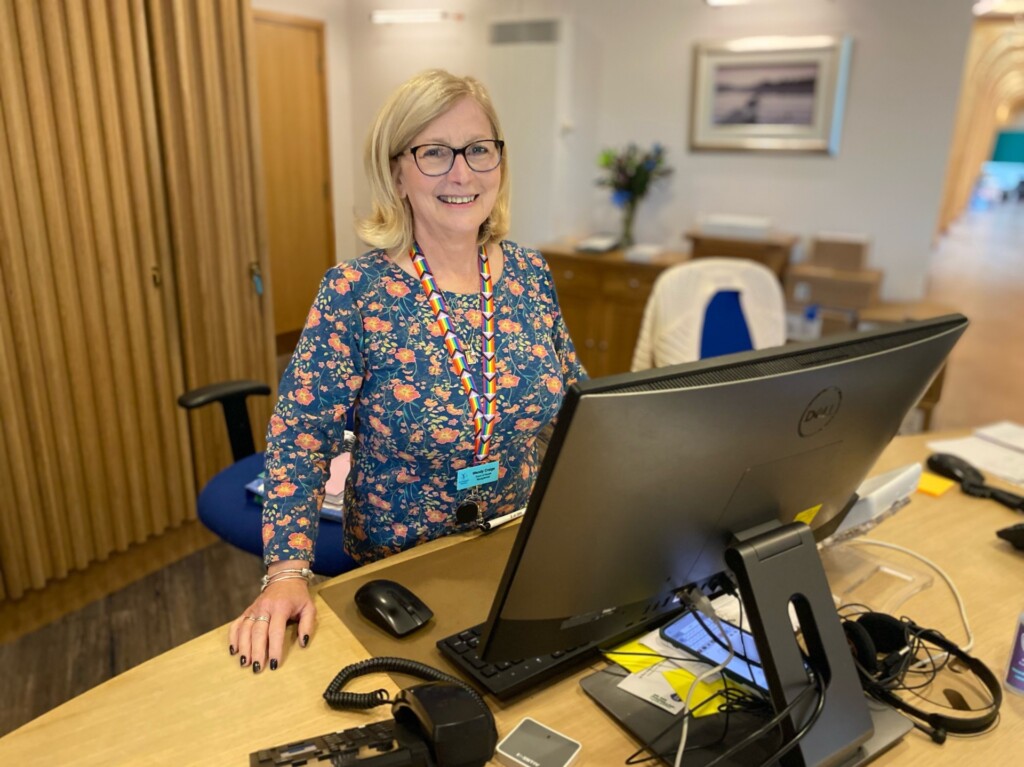 7.50am: I have just arrived at work, and set the main Reception doors to open automatically. After 4.30pm visitors press a buzzer at the entrance to be let in by a Reception volunteer or, overnight, a member of the In-patient Unit (IPU) team.
Once I have cashed up the till, unlocked the cupboards, and removed the previous day's visitor and volunteer lists, I transfer the phone over from the IPU and start receiving calls.
What will the day bring? Sometimes the phone starts ringing at 8am and barely stops all day.
The first calls of the day are sometimes quite distressing, as they can be from patients, or their families and carers, who have had a difficult night. Other times, they can be simple appointment cancellations. Each day is different.
Today's early call is from a person deeply concerned about her husband. She is distressed and would like to speak to the nurse who has been supporting him. I assure her I will ask the nurse to call her as soon as possible.
8.30am: I am joined by a volunteer who will be with me until 12.30pm. Between us, we will answer numerous calls, meet-and-greet patients arriving for support, welcome clients coming in for bereavement counselling, and escort visitors to see their loved ones in the IPU.
Visiting hours are 12pm to 8pm, but if compassionate visiting is in place visitors can come and see their loved one at any time.
12.30pm: My trusty volunteer companion from the morning will swap with another who will be here until 4.30pm. I usually have my lunch once the new volunteer is settled. I enjoy half an hour's break in The Green chilling and chatting!
The afternoons tend to be quieter on the phones, so if all is calm I pop up to the post room to frank today's mail ready for collection. Sometimes just a basket full – sometimes piles of it!
Once that's done, I will try to fit in some of my other responsibilities. This might be ordering stationary, dusting the new goods for sale in Reception, or updating the volunteer rota. I very rarely have time during any day when there is nothing to do. The phone will still be ringing no matter what!
4.30pm: Another of our wonderful Reception volunteers arrives for the evening shift and it's time for me to go home.
---
Beth Bedford, Family Support Practitioner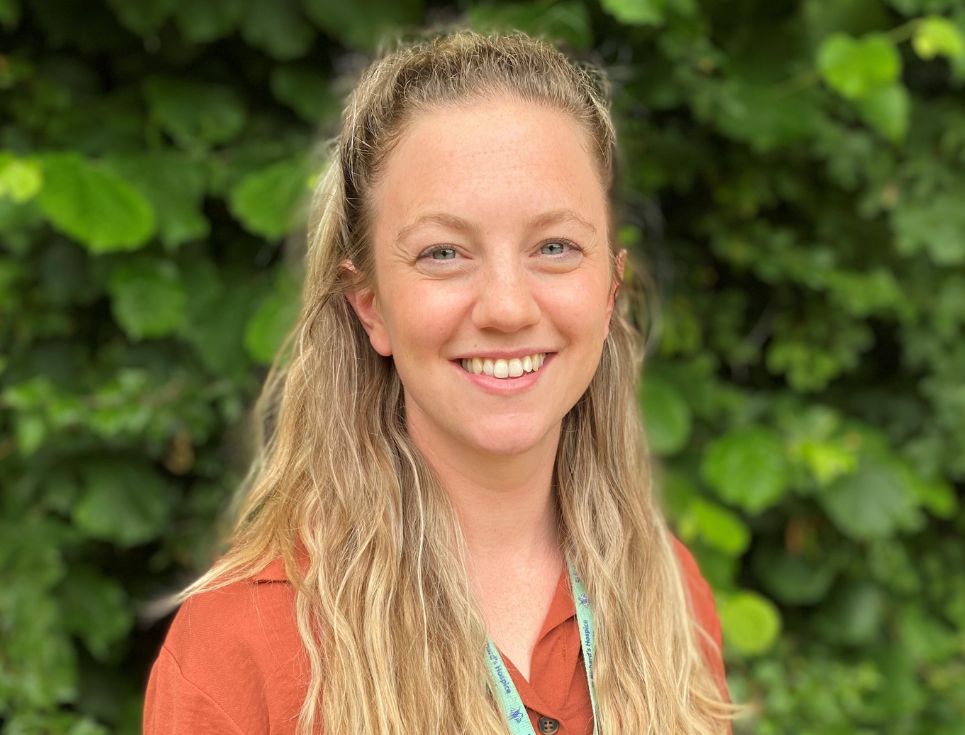 As a Family Support Practitioner, we wear many hats!
We have a caseload of our own clients who we support on a one-to-one basis. We respond to initial referrals into our service and carry out assessments to see what support will be most appropriate for them.
We run bereavement support groups including our Sunflower Group and STEPS.
We also oversee two teams of volunteers. These are our Family Support Volunteers who work one-to-one with clients, and our Community Volunteers (CV) who support patients and clients in their own homes.
I am the co-ordinator for the CV service and with a team of 17 volunteers there always lots to do!
8.30am: I log in, read and respond to emails, voicemails and tasks.
9am to 10am: It's time for our team meeting. Our daily team meeting give us a chance to check in, discuss workload, the priorities for the day.
10am-11am: Telephone assessment with a client looking for bereavement support. A gentle conversation with space to talk around grief and what advice and support we can offer.
11am to 11.30am: Notes following the assessment and completing referrals for support and group support.
11.30am to 12.30pm: A bereavement support session.
12.30pm to 1pm: Notes. Check my emails and voicemail and respond to messages. Lunch time and a chance to catch up with the team.
1.30pm to 3.30pm: Preparation for, and facilitating, a carers group here at St Richard's.
3.30pm: Time for a debrief following the carers group.
4pm: A new referral for community volunteer support for a patient. I call the family and arrange a home assessment to visit them.
4.30pm: Finish for the day.
---
A day in the life of Sally Dowding, Occupational Therapist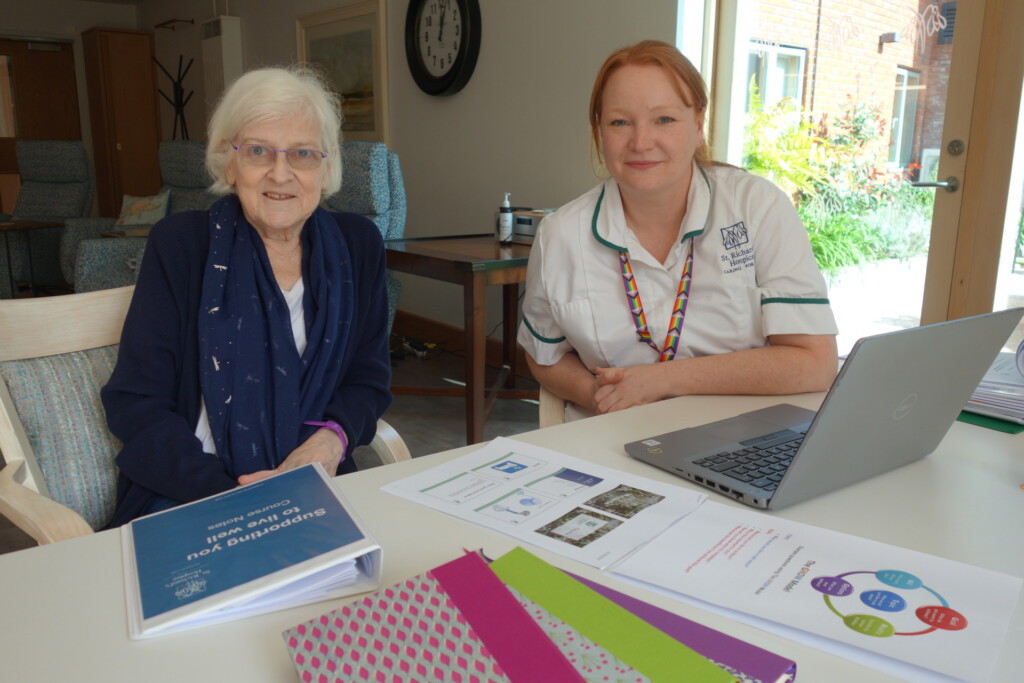 Hello! My name is Sally and I am one of the Occupational Therapists at St Richard's. Welcome to my day!
7.50am: I arrive at work and change into my uniform. As Occupational Therapists, we wear green and white. Physiotherapists wear blue and white. We often work closely together and sometimes we are mistaken for each other! I cover our In-patient Unit, Living Well Services and the Community.
8.30am: It's time for the IPU handover meeting which involves doctors, the IPU Sister, IPU Manager, Social Worker, Physiotherapist, myself and IPU Admin.
We learn how the patients have been overnight, if they have required extra medication, and if any are planning for discharge home.
10am: I review some patients on the IPU. I visit a patient who recently experienced some pain and breathlessness when carrying out their morning routine. I had introduced some long-handled pieces of equipment to support with positioning and to maintain their independence. The patient shares the items have been useful, helping to increase their confidence with morning activities.
11.30am: I meet with a patient who has been attending the Fatigue Management course however was unable to attend the final session. We complete some one-to-one work focusing on sleep and mental wellbeing. Since first meeting her as a patient on IPU it is now wonderful to hear how she has managed to return to her hobby of book binding, an occupation she has a clear love for!
1pm: Lunch at The Green is always a highlight of my day!
1.30pm: I head out on a joint community visit with the hospice's Physiotherapist. I use coaching skills to enable the patient and their partner to explore not only the meaning behind their chosen goal but also some of the potential cognitive and physical demands it will require. Everyone is different and I enjoy learning about what motivates people and what makes them uniquely them.
3.30pm: Following the visit I document my work before my day finishes at 4pm.