After five months' training in all weathers and plenty of mud, these walkers are set for our 31-mile Worcestershire Way challenge!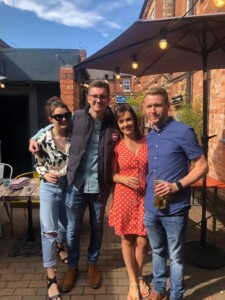 Max, along with his fiancée Annabel, sister Laura and her husband Chris will stride out on Friday, 7 July.
They are raising funds in memory of Max and Laura's beloved Grandpa David, who was cared for by our teams before he died in 2022.
"David wasn't just a husband, father, grandpa and great grandpa – he was the head of our family and our best friend," says Max.
"St Richard's provided care and support to help us keep him at home during his final days, ensuring those days were comfortable and dignified, whilst supporting us as a family during what was an extremely difficult time.
"David was provided with everything he needed, from equipment, care calls, specialist nurse visits and night sitters in the two weeks prior to when he passed away.
"As a family, we will always be so grateful to the St Richard's team for the compassion they showed us during this time."
Walking the Worcestershire Way will not be the first fundraising challenge completed by group members in memory of David.
Last September, Annabel ran the Worcester Half Marathon and in October Laura completed our 50K Your Way challenge.
Max says: "We all enjoy walking and have five dogs between us who get us out and about!
"We all work long, hectic hours and crave the time out to enjoy long walks over the countryside and to catch up.
"When we saw the Worcestershire Way Walk we thought not only would it be a great way to raise money for the hospice, it would be a great challenge and an accomplishment to achieve it for us and the hospice.
"So far, we have raised a significant amount for the hospice.
"We feel overwhelmed by the generosity of our family, friends and work colleagues who have donated to our page.
"It has made us proud to be involved and honoured to be part of something that will benefit people living with a life limiting disease or illness, as well as their families and carers."
We wish Max, Laura, Annabel and Chris the best of luck with this epic challenge, and thank them for their incredible fundraising efforts.
To donate, visit www.justgiving.com/fundraising/max-ana-laura-chris