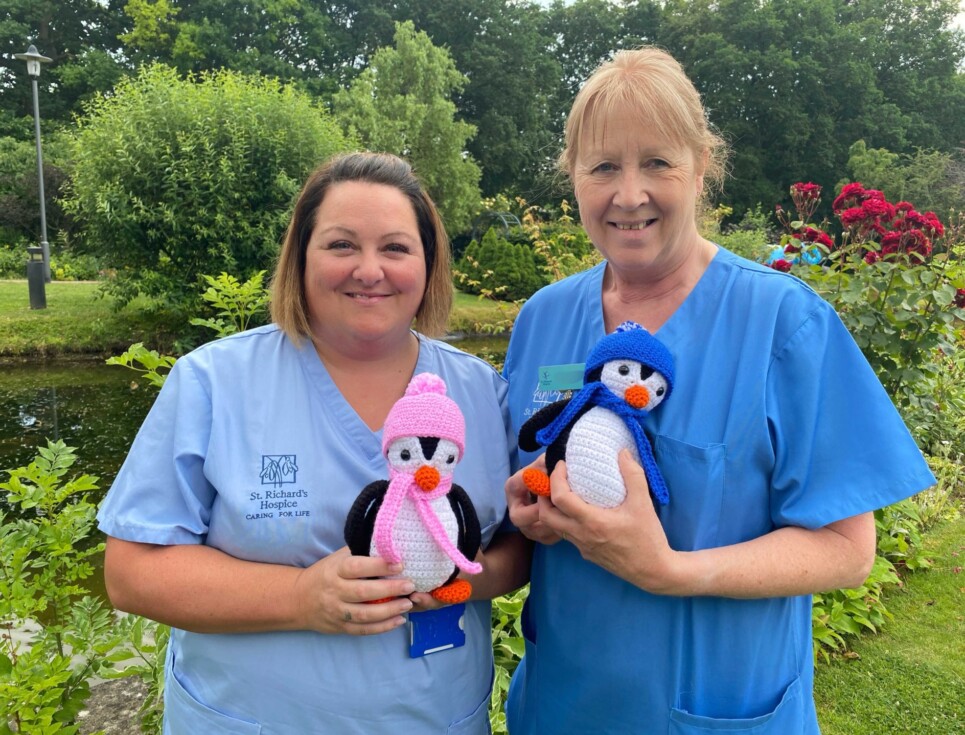 Organisers of the city's 2024 penguin parade are calling upon enthusiastic knitters, stitchers and crafters to help them create cute, cuddly and handcrafted items.
The great Waddle of Worcester, A Wild in Art event brought to the city by St Richard's Hospice, is encouraging residents to make and donate handmade penguins and penguin-themed bags, cushions and creations to support the project. A similar call for the hospice's elephant trail in 2021 raised an incredible £27,305 to help local patients and families.
Sara Matthews, Business Development Manager for St Richard's Hospice, explained: "We're so incredibly grateful to the county's crafting community who embraced our call for handcrafted ele-friends in 2021, raising tens of thousands for our care.
"We hope Worcestershire's wonderful makers will get behind us once again so that cute cuddlies – and all other things penguin – can be available during the 2024 trail for a donation towards our care. All the money raised will help us continue to be there for patients living with serious progressive illnesses and their loved ones too."
Knitting and felt patterns to inspire creativity – some kindly donated by hospice supporters – are available on the great Waddle of Worcester website at: https://waddleofworcester.co.uk/crafters-and-makers/
Finished penguins and other handcrafted items should be sent to Sara Matthews, Fundraising Department, St Richard's Hospice, Wildwood Drive, Worcester, WR5 2QT, with the sender's details inside the packaging so each maker can be thanked. The lovingly made creations will then be available for a donation to the hospice in the great Waddle of Worcester's city centre pop-up shop throughout the trail.
The parade of penguin sculptures will waddle in to Worcester for eight-weeks from Monday 22 July 2024. The spectacular showcase of 40 painted penguins will grace the city's streets and open spaces to form a free, open air trail.
Alongside the large sculptures will be 40 penguin chick sculptures, created by schools and community groups, on show in the city's shop windows and Crowngate Shopping Centre. Schools must register their interest in adopting a baby penguin in advance and can do so online: https://waddleofworcester.co.uk/schools/
The trail will be another fantastic way to showcase both the city and county to tourists and residents alike following previous successful art trails in 2018 and 2021.
There will be an app in time for the trail too – which will be available from the Google Play Store and the Apple App Store.
Once the trail has ended, there will be a final chance to see all of the sculptures together before the large penguins are auctioned to raise money for St Richard's Hospice. It will be an important fundraiser for the Worcester-based hospice which, like many charities, is facing a challenging fundraising climate as the cost of living crisis deepens.
The great Waddle of Worcester is supported by Presenting Partners; Crowngate, DRPG, Worcester City Council and Worcestershire Ambassadors, Community and Education Partner; Worcester BID and Media Partners; the Worcester News and BBC Hereford & Worcester.
You can follow the great Waddle of Worcester at: https://www.facebook.com/WaddleOfWorcester/, https://twitter.com/WaddleOfWorc and https://www.Instagram.com/WaddleOfWorcester   
To find out more, visit www.waddleofworcester.co.uk.