Earlier this year, St Richard's Hospice was delighted to receive a cheque for £1,500 from the Malvern Joggers.
The group's members have been raising funds for the hospice throughout the year, in a variety of different ways. Read about their fundraising.
Among those who presented the hospice with a cheque was Jamie Francis, Vice-Chair of the Malvern Joggers, just a week after his mum's death on the hospice's In-patient Unit.
Jamie's mum, Theresa Francis, was cared for by the hospice's Community and In-patient Unit Teams.
Jamie has written a moving blog about his experience of the care his mum received at St Richard's Hospice. You can read his words below.
Jamie's Story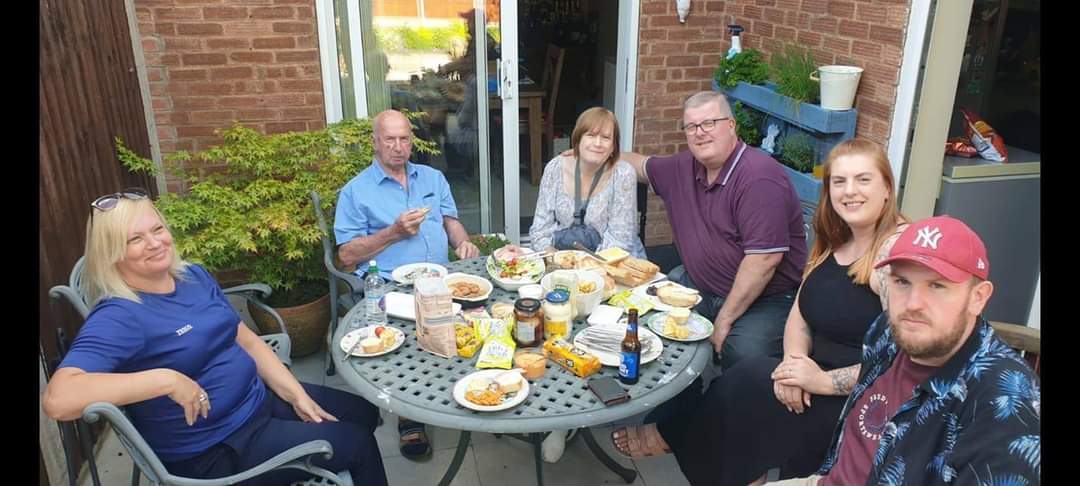 Each year, members of the Malvern Joggers vote to decide which charity we will raise money for that year.
I placed my vote after hearing of the fantastic support given by St Richard's Hospice to one of our members, who sadly died in 2020.
Little did I know how much I was going to learn about the hospice, and how much it was going to mean to me in the next 12 months.
In January this year, my mother fell ill rather suddenly.
It was quickly apparent to me St Richard's was going to play a vital role in the months that followed during my mum's illness.
To start with, hospice staff visited her at home. They got to know her and helped her understand her condition. This, in turn, allowed them to identify the best medication to control her pain along with other symptoms.
One Clinical Nurse Specialist in particular was amazing in the home stages of the care. She went completely above and beyond anything you would expect from a nurse.
I began to realise this was a common attribute across all St Richard's Hospice team members as the care progressed.
Sadly, in September my mother took a turn for the worst and the decision was made that she was to become an in-patient at the hospice.
The care was extraordinary, both for mum and the whole family. On day one, there was a hot cup of tea waiting for her on arrival – and we had a fantastic 45-minute discussion with a hospice doctor.
It was a huge sense of relief knowing all of her needs were cared for. We didn't have to worry.
From the hospice's beautiful surroundings, to the 2am coffee and sandwiches, the family visits, the home cooked food, the constant checking in and management of medication – the care St Richard's gave was fantastic.
In the last hours of care, staff had this unique ability to understand how mum was feeling – even when she could speak no words. This allowed them to make her comfortable and pass so peacefully.
There is no doubt my understanding of the situation and grief I am experiencing has been made that bit easier thanks to St Richard's. I am forever indebted to them.
It meant a huge deal to me to be able to present a cheque to St Richard's only a week after the death of my mum. This was a truly sentimental gesture and I am extremely appreciative of the Malvern Joggers for the opportunity.
I am excited to continue fundraising efforts for St Richard's – both as part of the club and in a personal level. I will take on my first marathon and Ultra Marathon in 2022.