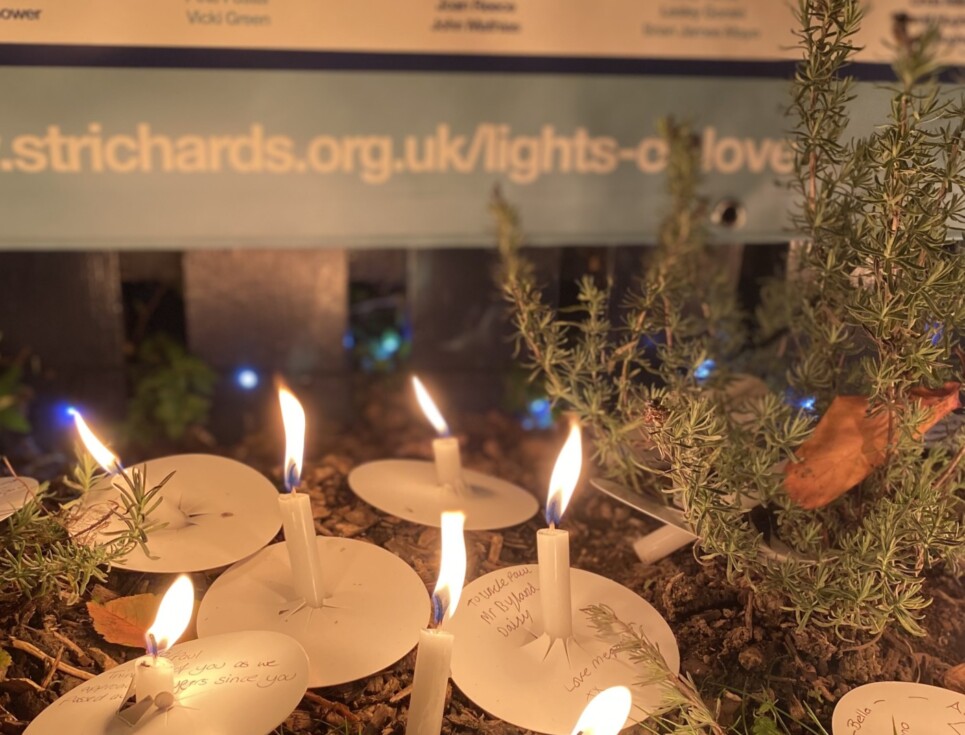 Hundreds of twinkling lights will be lit in memory and celebration of loved ones this festive season, in the annual St Richard's Lights of Love campaign.
There will be two moving and uplifting St Richard's Lights of Love events at Worcester Cathedral at 2.30pm and 7pm on Friday, 17 November. The choir from Kings Hawford will sing during the afternoon service and the RGS Senior School Choir will feature in the evening event.
The evening event will be followed by a procession to St Andrew's Spire, where a Christmas tree will be illuminated, full of dedicated Lights of Love, against a backdrop of music from the Worcester Salvation Army.
St Richard's has held Lights of Love events in Worcestershire for more than twenty years. Anyone is welcome to dedicate a light in memory or celebration of a loved one, not only those who have a connection with St Richard's.
Hospice Campaigns Fundraiser, Laura Clarke, said, "It's that time of year when we tend to reflect on all those wonderful people who have made a difference to our lives, particularly those who are loved and no longer with us. We look forward to celebrating and remembering loved ones again this year."
Mrs Clarke added, "Our Lights of Love events are free to attend, open to all, and are the perfect way to pay tribute to those we hold dear. We do please ask that people confirm their attendance in advance if possible by emailing our Fundraising Team at or calling 01905 958262."
The dedicated names will be displayed around St Andrew's Spire and in a Book of Remembrance at Worcester Cathedral. They will also be published in the Worcester News on 23 December if you wish.
You can dedicate a light online at www.strichards.org.uk/lights-of-love or call the Fundraising Team on 01905 958262.
Supporters who dedicate and donate online will have the added benefit of their personal message and photo being displayed on the St Richard's online Christmas tree.
Money raised from Lights of Love donations will help support the hospice's specialist care for people living with a serious progressive illness, their families and bereaved people across Worcestershire.
Lights of Love is kindly sponsored by Fisher German and supported by Worcester Cathedral, Worcester City Council, Leigh Sinton Farm & Nurseries, Midwest Mechanical and Electrical Services, Giglight, Droitwich Lions Club, Kings School Worcester, RGS Worcester, Worcester Salvation Army, Heart of Worcestershire (HOW) College.
Jason Clines, Partner for Fisher German, said: "Lights of Love resonates on a personal level with me, and is very close to our hearts here at Fisher German, recognising the exceptional care that St Richard's provides to people and their loved ones all over the county.
"The cathedral events are always very moving and comforting occasions and we look forward to celebrating and remembering loved ones again this year."
St Richard's Hospice is an independent charity caring for adults with a serious progressive illness, improving their quality of life from diagnosis, during treatment to their last days and supporting those important to them.
Each year the hospice team supports more than 3,100 patients, family members and bereaved people in Worcestershire.
It costs £9.72m to run the hospice (21/22 audited accounts), which includes patient care and all the necessary support services.
St Richard's relies on donations and gifts in Wills for the majority of its income with the remainder funded by the NHS.