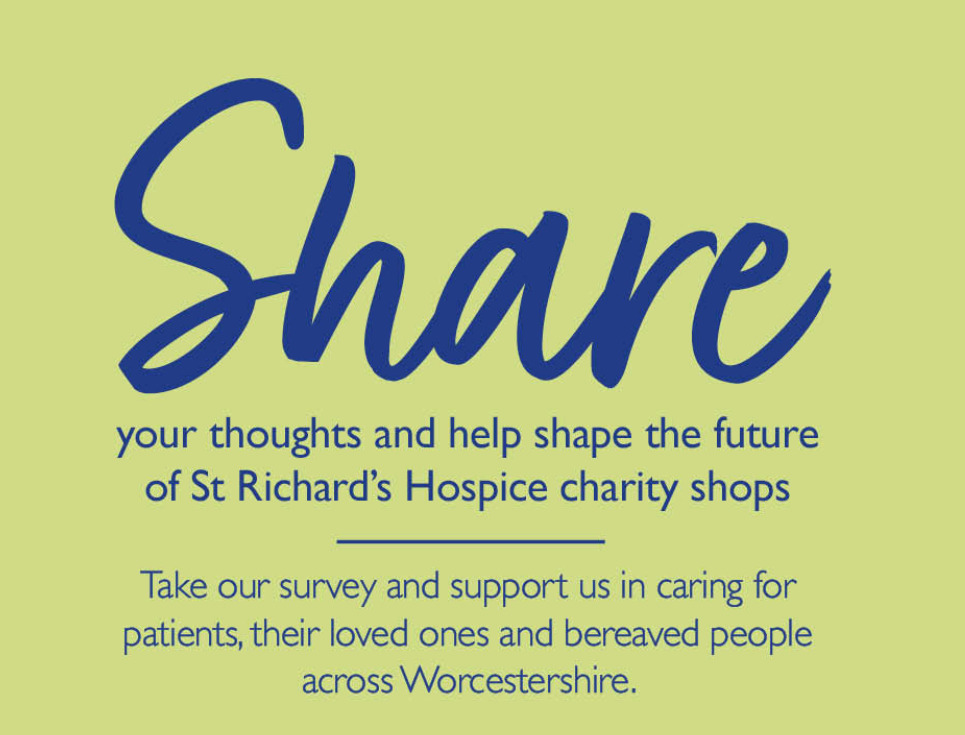 St Richard's Hospice is launching an audience research study to gather valuable insights into its charity shops and ensure its continued success. The study, conducted in collaboration with HemingwayDesign, aims to future-proof this vital source of income for the Worcestershire-based charity and identify opportunities for improvement.
Visit www.charityshopsurvey.co.uk to take the survey, which opens on Wednesday, July 5.
St Richard's provides essential care and support for adults with a serious progressive illness, their loved ones and bereaved people across Worcestershire. With 17 charity shops across the county, the stores serve as the face of the organisation in the community, welcoming more than 300,000 customers last year. Beyond their significance as community hubs, these shops play a pivotal role in generating essential profit to support the hospice's work.
HemingwayDesign, a respected multi-disciplinary design agency, brings its extensive experience and expertise in the second-hand and charity sectors to the collaboration. The agency's co-founder, Wayne Hemingway, began his entrepreneurial journey more than four decades ago by selling second-hand clothes. With a rich history of working alongside charities, HemingwayDesign is committed to promoting the circular economy and celebrating the positive impact of charity shops in town centres.
St Richard's Hospice and HemingwayDesign are inviting the local and wider community of Worcestershire to participate in an online survey, launching on Wednesday, July 5. The survey will run for just over two weeks, closing on Sunday, July 23. During this time, St Richard's is encouraging as many people living or working in Worcestershire to take part. Whether individuals are regular visitors or have yet to set foot in their charity shops, every response is of value.
The online survey will be supplemented by face-to-face interviews in selected stores over the coming weeks.
Mike Wilkerson, Chief Executive of St Richard's Hospice, said: "Our 17 charity shops are such an important part of who we are here at St Richard's and how we help to fund the care we provide free of charge to those who need us.
"We'd love the community to get behind this survey by giving us their thoughts and sharing the link with friends and family so we can future-proof this area of our income in an increasingly challenging fundraising climate."
Wayne Hemingway MBE, Partner, HemingwayDesign, added: "We are thrilled to be working with St Richard's Hospice on this research study. Understanding the shopping habits of communities across Worcestershire will contribute to the growth and development of the hospice's charity shops, ensuring they remain vibrant and responsive community assets.
"At HemingwayDesign, we've worked across a whole series of town centre visioning, regeneration and urban design projects. Charities are the bedrock of our town centres. They work simultaneously to improve a multitude of crises facing our country, and planet. And as the cost-of-living crisis worsens, they are a lifeline to many.
"The value of charity retail extends far beyond its economic contribution. We can credit charity shops with tackling our planet-damaging habit of fast-fashion, it's one of the best examples of the circular green economy at scale."
St Richard's Hospice is an independent charity caring for adults with a serious progressive illness, improving their quality of life from diagnosis, during treatment to their last days and supporting those important to them.
Each year the hospice team supports more than 3,100 patients, family members and bereaved people in Worcestershire.
It costs £9.72m to run the hospice (21/22 audited accounts), which includes patient care and all the necessary support services.

St Richard's relies on donations and gifts in Wills for the majority of its income with the remainder funded by the NHS.