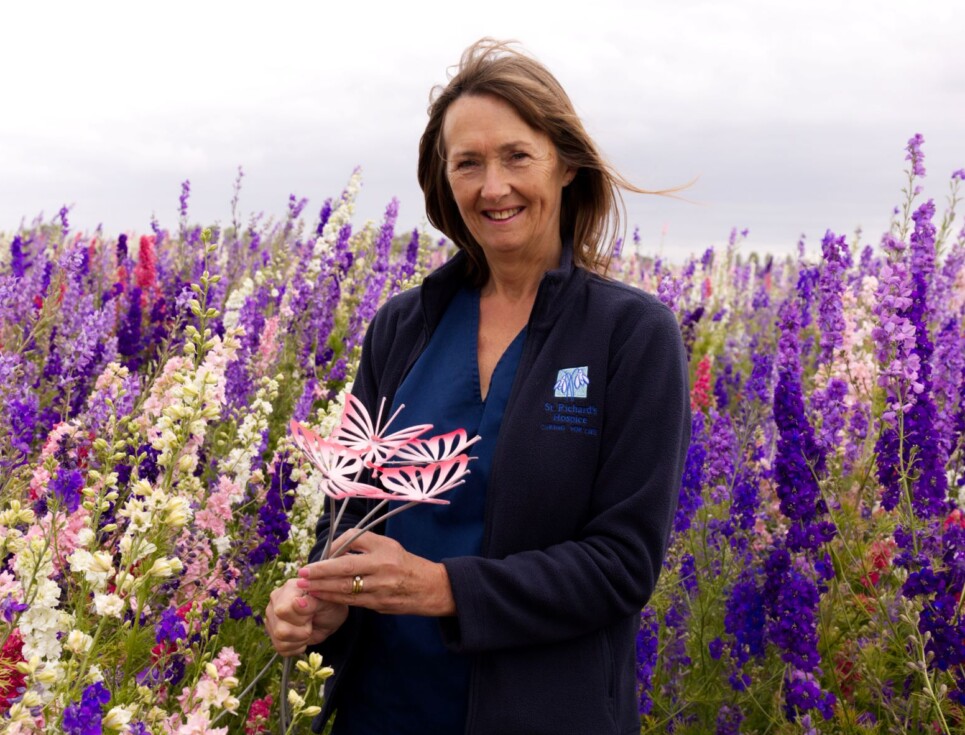 A colourful kaleidoscope of butterfly sculptures will take flight to Worcester this summer to create a memorable celebration garden for a county hospice.
One thousand hand-crafted butterflies will flutter around St Andrew's Spire in Worcester from 12 August until 29 August 2022, raising funds for St Richard's Hospice.
The unique display of beautiful butterflies follows the success of the charity's previous Celebration Gardens of forget-me-nots, snowdrops, dragonflies and bees. Each butterfly is individually commissioned from craftsman Ed Alvis, of Metal Art UK, at his workshop near Evesham.
People are being encouraged to celebrate and remember loved ones or mark a special occasion by donating for a butterfly, which they can later take home as a keepsake or a gift.
Donations to help create this sculpture installation will help fund St Richard's care of patients, their loved ones and bereaved people across Worcestershire.
Matt Jackson, Family Support Manager for St Richard's Hospice, said: "The butterflies will create a colourful, eye-catching garden, which will be an ideal focal point for celebration and reflection in the heart of Worcester.
"A symbol of transformation and hope, butterflies are also reflective of our work with families and young people as we support them to navigate the changes that arise when a loved one has a serious progressive illness or they are bereaved."
Donors will be invited to collect a butterfly from The Spire or from the hospice after the display has come to an end. Butterflies can also be posted
The butterfly creator, Ed Alvis, is well known from his appearances on television's Scrap Kings for the Quest channel and has a personal connection with the hospice. His father was cared for at home by St Richard's during a short illness before he died in 2013. His second year supporting the hospice Celebration Garden, Ed felt creating the butterflies was another opportunity to show his gratitude for that help.
To order a butterfly online visit https://www.strichards.org.uk/support-us/fundraising/celebration-garden/ or secure one by calling the St Richard's Fundraising Team on 01905 958262.
Celebration Garden is kindly sponsored by Blue Print Direct Mail Limited and supported by Metal Art UK. With thanks to the Confetti Flower Field at Wick, Pershore, for supporting the appeal by providing a location for photography.