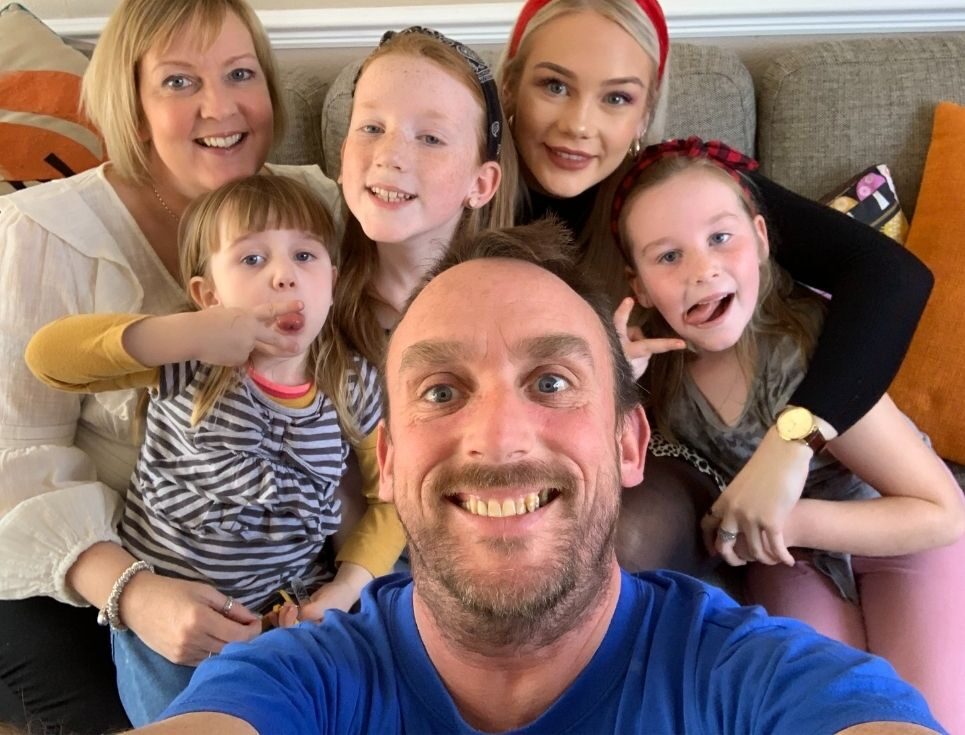 We have a fantastic group of runners taking on the London Marathon 2021 and raising funds for St Richard's towards our care.
Today we are saying a huge thank you and wishing best of luck to Carl Ives who is taking on the London Marathon to raise funds for our care in memory of his wife, Michelle.

Carl knows only too well how St Richard's can make an enormous difference to families at an incredibly difficult time. He explains more in his own words:

"St Richards has been an integral part of my family for a few years now. My wife, Michelle, had terminal skin cancer. The hospice was amazing and supported her with access to complementary therapy treatments, Tai-Chi, art classes and individual counselling. This helped her to "live well" as they say at the hospice as long as she could. This lasted all through the time the treatments were working. Although they worked, they obviously took their toll as did living with the knowledge. Michelle was incredibly brave and the hospice and their team were like a rock to her. Always there and willing to help.

"They are supporting our eldest daughter through individual counselling and do the same for my wife's mother. They are supporting my two middle daughters through the Family Support Team, individually as well as them and myself together. We were initially part of the Waterbugs Group which is a pre-bereavement group. We attended this for some time before Michelle passed away. Even with Covid causing many restrictions after Michelle's death, St Richard's invited us to the Dragonflies Group which is post bereavement. First in lockdown online and now lockdown is over we have the opportunity for some face to face group work again.

Losing someone like we did is like having a kid, in that till you become a parent you can't understand how special it is and how much love you are capable of. Unless you go through watching someone you love die you can have no idea how devastating it is and how much sadness you are capable of. Being put in touch with other people who understand is a big help in enduring such an impossible experience.

They have also provided me with individual counselling which has at times being the main factor in my coping with the situation, both during Michelle's illness and since she died.

In addition to all this they gave couples counselling to Michelle and I while she was ill and this helped our relationship cope with some of the stress and strain of living with a terminal diagnosis with a young family. Try and imagine that for a moment.

When Michelle became ill at the end the hospice stepped in again and oversaw the end of life care at home so that we could give Michele the loving end she deserved at home with her family while the world was locked down by Covid. Words will never describe how important to us all that was.

In short, St Richards has been a lifeline to us all. Both during the illness and after. They have told me it's ongoing as long as needed as grief can come back and children can be affected by it again at different stages of development. This gives some comfort as our family come to terms with our new unwanted reality.

I hope that you never need the support of St Richard's but if you do I truly know you will be blown away by just how much they can and will do to help. Please help me to give something back to such an amazing organisation by sponsoring my efforts.

To sponsor Carl visit https://www.justgiving.com/fundraising/carlives

You can watch a video of Carl and Michelle talking about the support of St Richard's during her illness here:

Carl's local community in Littleworth are fully behind his marathon challenge.
A friend offered to organise a fundraising event and in the space of two weeks pulled together a fantastic family day. The whole village got involved to make a day full of fun and laughter Carl says Michelle would have loved.
The event raised an incredible £3,567, pushing Carl's total to a fantastic £5,968.