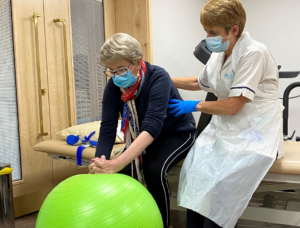 "The difference here is you are given ways you can progress. I feel now I'm living with cancer, not dying of cancer."
These are the words of Linda Woodhams, 66, who is pictured using techniques to improve her mobility with physio Gill in our newly created exercise studio.
The studio is one of the new therapy rooms which surround The Green – a beautiful, communal space at the heart of the hospice.
Linda, from Worcester, attends Living Well therapeutic day sessions at the hospice in Worcester once a week.
During her visits, Linda accesses support from hospice doctors, take part in tai chi sessions, and learns techniques to manage symptoms of her illness at home.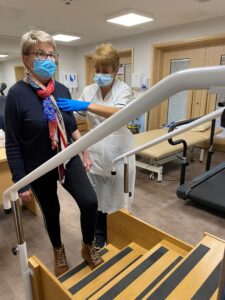 Speaking about her experience of physiotherapy at St Richard's, Linda said: "The biggest thing this has given me is some sort of control in what is going on.
"It gives me something to build on and targets to work towards."
Linda, who was diagnosed with cervical cancer in 2018, began attending sessions at St Richard's in November.
The Living Well Team's vision is for patients and their families to feel empowered to live well with their illness, and have the best quality of life possible.
This has not changed during the pandemic. Whether care is safely delivered face-to-face at the hospice, or virtually by phone and video call, each person continues to receive individual, tailored support.
Find out more about our Living Well Services online at www.strichards.org.uk/our-care/living-well-centre