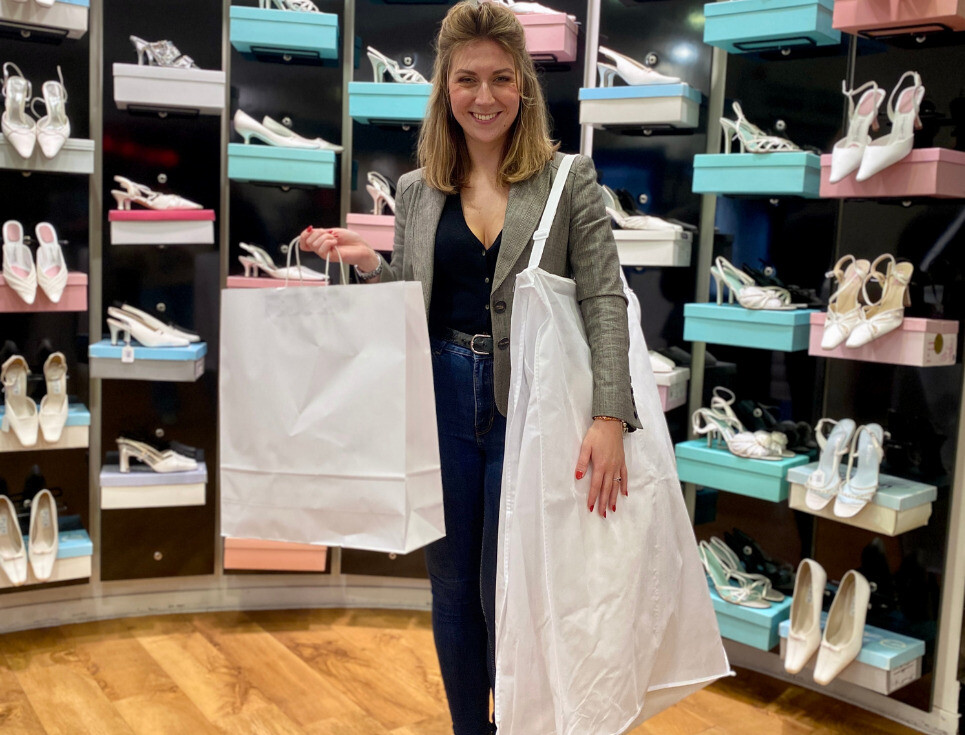 Brides to be are flocking to a pop-up boutique in Worcester to find their dream dresses.
St Richard's Hospice launched 'Snowdrops Bridal' at 34 Chapel Walk, Crowngate Shopping Centre, Worcester, in mid-February and have welcomed hundreds of shoppers.
The boutique which is open Wednesday to Saturday until the end of March, offers new and preloved wedding finery with all funds raised supporting the charity's care for patients and loved ones across Worcestershire.
One delighted bride-to-be is Stephanie Whitby, who is marrying her fiancé, Daniel Matthews in May next year. The couple are both Worcestershire born and raised and currently living in Surrey.
Stephanie said, "The experience of the bridal boutique itself was magical! It was professional, yet managed to keep a personal touch. The first dress I tried on was the 'one' and I came away with it the same day, as well as a veil. It was the exact experience I was hoping for finding my wedding dress, and made that much sweeter that it all went towards the most amazing cause. I want to thank everyone who helped and made it so special."
The couple had an added reason for shopping at Snowdrops Bridal. "St Richard's took care of Dan's dad, Pete, when he was ill," said Stephanie. The carers were always wonderful and kind, so it has always been a charity close to our hearts."
The couple got engaged on Stephanie's birthday last September and will marry at Bredenbury Court Barns.
Dan Corns, Commercial Director at St Richard's, said: "It's been fantastic to see the reactions from shoppers to the gorgeous selection of new and preloved bridal gowns, accessories, bridesmaid dresses and guest outfits available in store, offering everything you need for a stylish and sustainable wedding.
"None of this would be possible without our amazing community who have gifted their dresses and accessories to us, along with Crowngate Shopping Centre who've provided the shop space so we can raise much-needed funds for our care."
"We wish Stephanie and Dan, and all the other brides who have shopped with us a wonderful and memorable big day."
Find out more about the hospice's bridal shop, and how you can donate dresses and accessories
St Richard's Hospice is an independent charity caring for adults with a serious progressive illness, improving their quality of life from diagnosis, during treatment to their last days and supporting those important to them.
Each year the hospice team supports more than 3,100 patients, family members and bereaved people in Worcestershire.
It costs £9.72m to run the hospice (21/22 audited accounts), which includes patient care and all the necessary support services.
St Richard's is an independent charity and relies on donations and gifts in Wills for the majority of its income with the remainder funded by the NHS.