Sisters from Malvern are taking on a month-long challenge to raise funds for the hospice which cared for their parents.
Anna and Katie-May Parker signed up for the St Richard's Hospice Fit for Feb challenge to run at least 28km each in a month and have already raised more than £480 for the charity.
The duo signed up for the challenge in memory of their dad, Nick, and mum, Susan, who died weeks apart.
Anna, 31, explained: "We wanted to give something back to the hospice. We will never forget what the hospice have done for us.
"If we raise some money, we agreed that it is something positive to come out of something horribly negative."
Katie-May, 29, added: "A friend told me the hospice is run by angels and we truly believe it is. The care they gave our parents was amazing.
"We just want to give something back to the hospice so they are able to care for other families the way they did for us."
Nick, who lived with Chronic Obstructive Pulmonary Disease, was safely cared for by the hospice's Community Team face-to-face and over the phone.
The team enabled Mr Parker to stay at home as he wished with his daughters and wife, Susan. He died in November 2020 aged 64.
Weeks later, Susan became ill with pneumonia and was transferred from hospital to the hospice's In-patient Unit in Wildwood Drive, Worcester.
Anna and Katie-May could safely visit and spend time with their mum during her stay at the hospice, before she died in January 2021 aged 63.
"It made the world of difference to us to be with her," said Anna, who is now receiving counselling from the hospice's Family Support Team.
"The hospice was so comfortable. It was almost like your living room. The hospice was brilliant, the care they gave mum was brilliant."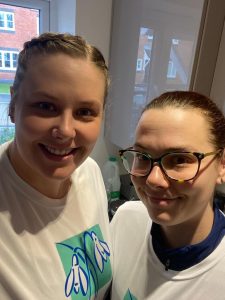 The sisters, who live just a few doors apart from each other, hope to raise money for the hospice throughout 2021 – with more challenges on the horizon including the Bristol Half Marathon and 10K.
"We have really struggled recently trying to get out of bed and to have a normal routine," said Anna, who is also a keen mountain biker. "It is hard to get motivation.
"Exercise makes you feel better, and it has got us out of bed today. It makes you feel good.
"It will bring us closer. We are close anyway, but it is just something we can do together and we can keep mum and dad's memory going."
To support the sisters' fundraising, visit their JustGiving page www.justgiving.com/Anna-parker21
Jayne Sargeant, a fundraiser at St Richard's, said: "We are incredibly grateful to Anna and Katie-May for raising funds for our care in memory of their mum and dad.
"We wish them both the very best with their fundraising challenges this year.
"It is only thanks to the amazing support of people like Anna and Katie-May that we can continue to provide our care free-of-charge to patients and their loved ones across Worcestershire. Thank you."