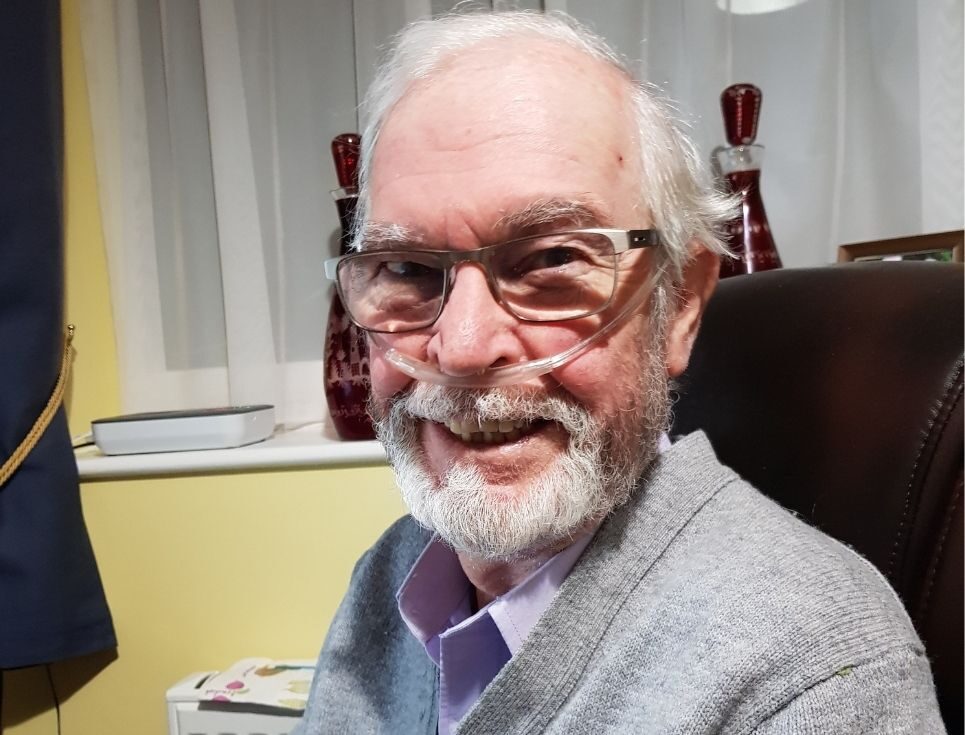 "The understanding and empathy of all the staff – and volunteers – I met, in person or virtually, was exceptional and added to my reassurance and the feeling that I was in safe and understanding hands."




Those are the words of 70-year-old John Mills from Worcester, who was diagnosed with a serious lung condition (Idiopathic Pulmonary Fibrosis) just over six years ago, leaving him reliant on a high dose of oxygen 24 hours a day.
John has benefited from a range of hospice services, including attending our therapeutic sessions both virtually and in person every other week.
John said:
"I found both going into the hospice and the virtual support extremely helpful and reassuring in many aspects.
The breathlessness course is very helpful to me. I am currently on the second virtual course (the first was during lockdown) which is acting as a very valuable reminder about how to handle breathlessness at different levels, whether practically or emotionally. This second course is being very important to me as my breathlessness has increased significantly since I took part in the first course.
I have started joining the Men Space virtual meetings and have enjoyed them. Andy and his social worker colleague are both very good at running the meetings and living on my own, I find it very valuable.
I knew very little about the range of services offered by the hospice before my first visit. I had read about the services, but I learned much more by discussing the range of services and how they operated by talking to the staff. I certainly did not expect the hospice to run such a wide range of services such as those which are available on a virtual basis (due to Covid). I'm impressed by the thought that has obviously gone into considering the range of needs patients may have and the choices available.
I have personally been helped so much by St Richard's that I would certainly recommend the hospice care to others with serious health issues. I believe that the support and reassurance alone would benefit most people and get rid of any misconceptions about the role of the hospice. It is one of the most welcoming places I have ever visited.
The biggest difference being supported by St Richard's has made to me is the reassurance that those people working in the hospice completely understand the needs of terminally ill patients and the need for excellent palliative care, whether at home or as an inpatient. The practical help I have received at home in respect of showering and Occupational Therapy input has been very helpful, as has the relaxation sessions when I visited the hospice. Generally, I feel that I am in very safe hands."
Find out more about our Living Well Services at www.strichards.org.uk/our-care/living-well-centre