It's Learning Disability Week.
This year's theme celebrates arts and creativity.
Crafts can be an important way to support someone with a learning disability to explore, communicate, and cope with their grief – both before and after bereavement.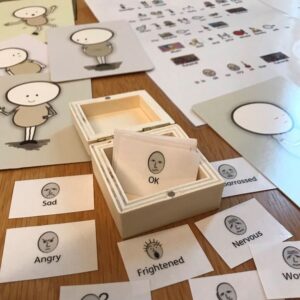 Andy, a specialist palliative care social worker in our Family Support Team, supports people before and after the death of their loved one.
Many of the people referred to his team for support have learning disabilities, and other cognitive conditions. This means they think, and see, the world very differently to neuro-typical people.
He says: "Many people struggle to discuss death, dying and bereavement. It's a complex, nuanced and very emotive topic.
"We ensure people with learning disabilities are offered the same opportunities to access emotional support as neuro-typical people.
"This can include communication tools such as Widgit symbols which are used to create social stories on a range of topics from explaining death, to what happens at a funeral.
"Craft activities are important too, such as creating memory boxes. As well as offering a space to keep photographs and mementos safe, a memory box can also be a tool for someone with limited verbal communication to let those around them know the person who died is on their mind."
Every person is different, and has a different story, a different support need – and a different perception of death, dying and bereavement.
"We treat every person as an individual. This way, we can make sure to do everything possible to support every to learn to live with their bereavement."
Pictured here are a examples of the creative tools used to support people with learning disabilities to cope with bereavement.